Bread Halwa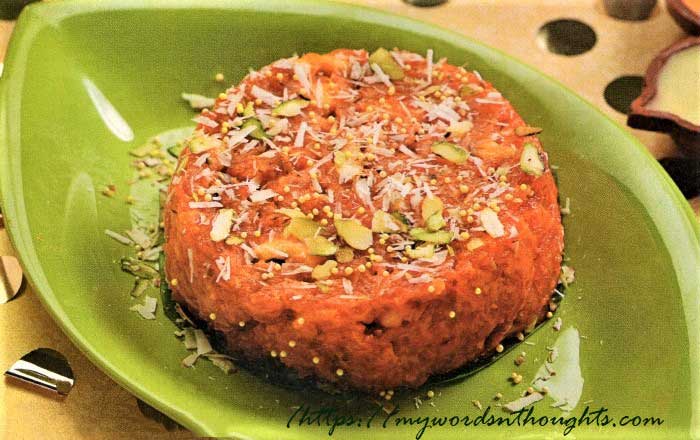 Ingredients for Bread Halwa:
1. Ghee – 3 big spoons
2. Cashews broken – 20 gm
3. Bread slices – 400 gm
4. Sugar – 100 gm
Water – ½ cup
How to prepare Bread Halwa?
1. Remove the edges of bread slices.
2. Heat 1 big spoon of ghee in a pan, and fry cashews till they turn golden brown.
3. Remove cashews from ghee and toast bread slices in the remaining ghee.
4. Flip both sides of the bread slices and fry till they turn golden brown.
5. Add sugar and water to the pan, and boil.
6. Cut bread slices to small pieces and allow to soak for a few seconds.
7. Using a spatula smash the bread pieces, and reduce the flame.
8. Add ghee regularly and keep cooking bread for next 10 minutes.
9. When ghee starts to separate from the edges of the pan, add cashews and switch off the flame.
10. Mix your bread halwa and allow it to cool.
Courtesy: Vanitha Magazine, October 15-28, 2022
Read a few more halwa recipes. Visit my page.