Ayesha Dutt – Former Bollywood actress and film producer
Ayesha Dutt also known as Ayesha Shroff is a former Bollywood actress and model of 1980s. Now she is a film producer. She is the wife of Bollywood actor Jackie Shroff and mother of popular actor Tiger Shroff and Krishna Shroff. She played female lead in less-known Bollywood film, Teri Baahon Mein, released in 1984. After her marriage with Shroff, she settled with her family life, and later turned a film producer.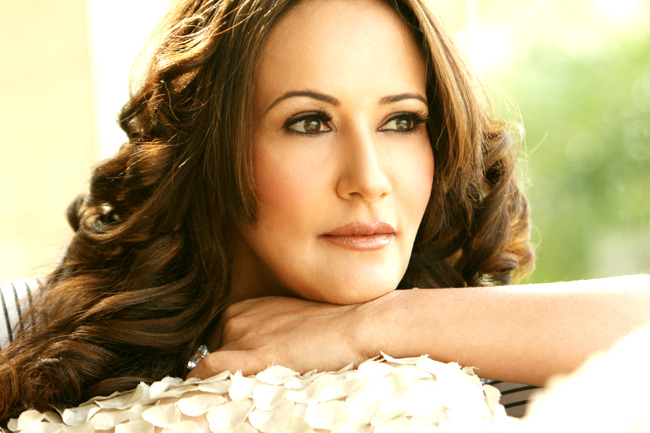 Ayesha started her career as a model in the early 1980s
Ayesha Dutt was born to Ranjan Dutt, an air vice marshal in the Indian Air Force and Belgian mother mother Claude Marie Dutt De Cavey in 1960. She started her career through modelling. Her success in modelling gave her first break to films in 1984. Her debut film Teri Baahon Mein flopped at box office. She dated Jackie Shroff for many years who was a leading star of Bollywood in the 1980s. After her marriage with Jackie Shroff in 1987, she said good bye to her brief career in films and modelling.
Ayesha's production venture, Boom's debacle brought financial crisis to the family
With early 2000s, she turned a film producer, and her career as a producer was not successful. They set up a home production company – Jackie Shroff Entertainment Limited, which produced films like Boom (2003), Grahan (2001), Jis Desh Mein Ganga Rehta Hain (2000) and Bombil and Beatrice (2007) which flopped. The family faced huge financial crisis too. As a producer, she money owed to one financier alone amounted to Rs. 180 million, and had to sell of their apartment in Mumbai to pay off the debts.
Her relationship with business partner and Bollywood actor Sahil Khan
It was alleged that she had a relationship with Bollywood actor Sahil Khan (of 'Style' fame) since 2009, right from the start of their production house together. Later their business relationship took an ugly shape when she filed a legal case of cheating against him in 2014. Sahil produced some intimate pictures to the Court showing him along with Ayesha in a compromising situation, proving that those rumours were true. In 2019 Khan offered an unconditional apology on moral grounds for business losses caused to Shroff, and in return she paid for winding up of all the six failed companies. Also both parties withdrew their cases and all incriminating articles including photos and articles will be destroyed.
Ayesha Dutt – Some interesting and less-known facts
1. She courted Jackie Shroff for 10 years before marriage.
2. Her father who was an astrologer picked up her birthday for her wedding with Shroff in 1987. It was her 27th birthday when she tied knot. The couple had two children.
3. Nutan's son Mohnish Bahl is her single film hero throughout her film journey as an actress. They played stranded travellers in an island in the movie, Teri Baahon Mein (1984).
4. She contested as the Miss Young World contest at Manila in the 1980s, but couldn't make it to the finals. Yet she was selected as the most popular girl at the beauty pageant by her fellow contestants.
5. As a film producer most of her films bombed at box office, and the family lost almost everything which they earned from Bollywood.
6. Through her production company she launched model Katrina Kaif to films through Boom (2003). Though the soft porn movie starring Amitabh Bachchan and Gulshan Grover was the biggest flop of the year, Katrina Kaif received more film offers, and later she established as a successful actress.
7. Following Boom's debacle, the family had to sell their four-bedroom Bandra apartment and move into a two-bedroom home in Khar. Even the furniture and Ayesha's artwork and lamps were sold off.
8. After Boom's huge failure, she also had a strained relationship with her husband for a short time.
9. Though Tiger Shroff brought their old house back in 2017 after he made a successful career in Bollywood, his parents took it as a kind gesture and preferred to stay in their current residence, near to Aamir Khan.
10. She along with her husband jointly owned 10% shares in Sony TV since its launch until 2012. Later they sold off their shares.
(Visited 1,311 times, 1 visits today)