Ashwini Nambiar – 'Alli' of Manichitrathazhu fame
Ashwini Nambiar is a south Indian actress, who has worked in Malayalam and Tamil entertainment industry. She is best known for playing Alli in cult classic Malayalam film, Manichitrathazhu, released in 1993. She has been associated with several Tamil soaps as well. 'Magarasi' is her popular Tamil TV serial. She is also an artist of performing arts. Though her real name is Ashwini, she was also credited as Rudra in a few films during her early days. She now resides in Singapore.
Ashwini Nambiar started her career in the 1990s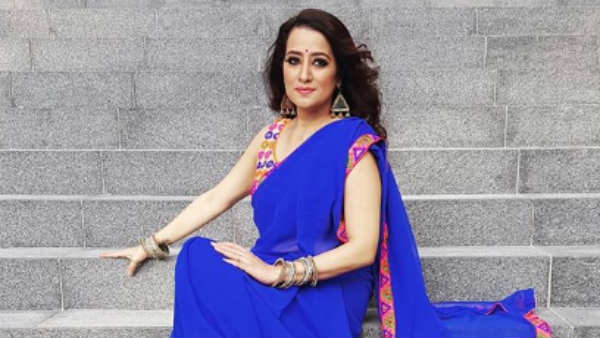 Ashwini Nambiar was born and brought up in Chennai. But both her parents were of Kerala origin. She started learning Bharatnatyam at the age of 5, and has been actively involved with school competitions and cultural events since those days. Apart from Bharatnatyam, she participated in elocution, drama, monoact etc.
She was featured in a costume ad in magazine, which opened her doors to cinema world. She started her career with Pudhu Nellu Pudhu Naathu in 1991, playing second lead. Movie was directed by Bharathiraja. He saw her picture in the magazine and casted for the role of Ramarjun's love interest. She was studying in class 10 then, when she had little knowledge about films.
Post Box No. 27 was Ashwini Nambiar's first Malayalam film
1991 movie, Post Box No. 27 marked her Malayalam debut, where she played the parallel lead. She was credited as Rudra in this film. She shared screen space with Mukesh, Suma Jayaram and Siddique in this film. It was followed by "Aayushkalam" and "Manichitrathazhu". Though her character in the later had a brief role, her character 'Alli' got a cult classic status, because of the very film dialogue of Shobana in the movie, towards the climax.
She got opportunity to work in a handful of good movies of 1990s such as Kauravar, Druvam, Pavithram etc. Yet she never rose to lead roles. She was also interested in any kind of roles which fascinated her and got something special. Kudumbakodathi was her last Malayalam release. She acted in more than 15 Malayalam films. Later she moved to Tamil serials, and left acting soon after marriage. She settled in Singapore where she resumed her passion of acting and dancing. She appears in Tamil serials of Singapore.
Ashwini Nambiar – Some interesting and less-known facts
1. Her real name is Ashwini, and she was rechristened as Rudra by her debut director Bharathiraja, who always choses his heroine names starting with alphabet 'R'. Actresses like Revathy, Radha, Radhika etc were rechristened by him.
2. She changed her name Rudra back to Ashwini after a few films in Tamil, yet kept Rudra itself for Malayalam movies, as insisted by production houses.
3. Though she has retired from Malayalam films, she is still active as an artist, and appears in TV serials of Singapore and also a few English short films, in the recent times. She also performs on stage.
4. She started working in Tamil serials while in Singapore, but because of covid, she had to leave the project because of travelling issues.
5. Her husband is of Indian origin, but with Singapore citizenship. The couple has one daughter.
6. While filming a song sequence for her debut flick, Pudhu Nellu Pudhu Naathu, she insisted not to do romantic scenes in front of crowd and outburst in tears. The director Bharathiraja removed whole crowd, and the scenes were shot with co-star, in the presence of her mother, cameraman and director.
7. In the 1990s, when she was busy working with many film directors of Malayalam, it was a time when 3 or 4 film units worked in a single location. So, when going for shooting for another film in same location, it simply gives the feel to go to another stage for another performance.
8. She acted in Singapore drama, '128 Circle.'
(Visited 248 times, 1 visits today)