Arif Mohammad Khan – State governor of Kerala since 2019
Arif Mohammad Khan is a politician and former parliamentarian from Bulandshahr, Uttar Pradesh. A 4-term parliamentarian representing Kanpur and Bahraich in the 1980s and 1990s, he took power as State governor of Kerala on 6 September 2019 succeeding P. Sathasivam, who completed his term. He has formerly served as a cabinet minister too. He, with his wife Reshma Arif run the Samarpan for physically challenged people. Arif, who got into active politics in the 1970s is currently affiliated to Bharatiya Janata Party, was formerly associated with Bharatiya Kranti Dal and Indian National Congress. He is known for supporting reformation within Muslim community of the country.
Student leader during his college days at AMU
Arif Mohammad Khan was born in 1951 in Bulandshahr, Uttar Pradesh. He joined active politics in the early 1970s during his college days at Aligarh Muslim University. He was a students' union leader representing Bharatiya Kranti Dal in AMU. He joined active politics after that. However he couldn't win state assembly elections in Siyana constituency, when he contested the first time. But later in 1977 he joined state assembly at the age of 26. He switched the party to Indian National Congress in 1980 and successfully contested Lok Sabha elections from Kanpur. He got elected to Lok Sabha thrice later from Bahraich in 1984, 1989 and 1998.
He had disagreement with Congress' stand on Triple Talaq and Shah Bano case
While serving as a minister in Rajiv Gandhi's cabinet in 1986, he had differences with PM Rajiv Gandhi over the issues of Triple Talaq and also Shah Bano case. As an advocate of woman rights belonging to his community, he had disagreement with Gandhi when Congress government enacted a law reversing Supreme Court's judgement of favouring maintenance given to an aggrieved divorced Muslim woman, coming under high pressure from different groups of Muslim community. He was also against the triple talaq legislation, and he resigned from INC.
After quitting Congress, he joined the Janata Dal
He joined the Janata Dal and got re-elected to parliament in 1989 from Bahraich. During this short term he served as Union Minister of Civil aviation and Energy. He left the Janata Dal and successfully contested his favourite constituency Bahraich on Bahujan Samaj Party in 1998. During 2004 general elections, he changed his affiliation to Bharatiya Janata Party, and lost his seat. He quit BJP in 2007 to remain non-partisan. He has always advocated abolishing of All India Muslim Personal Law Board.
Arif Mohammad Khan – Some interesting and less-known facts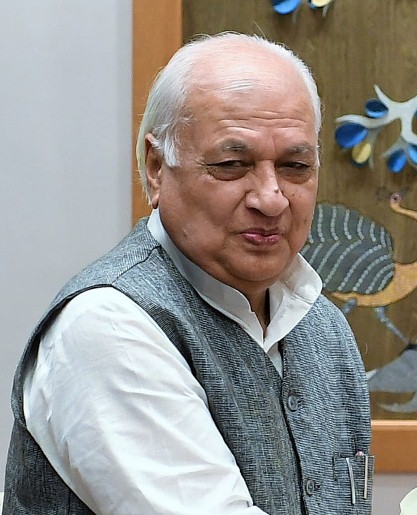 1. He is the author of the book – Text and Context: Quran and Contemporary Challenges.
2. During his college days in ALU, he was a honorary Secretary during 1971-1972. The following year he became President of Aligarh Muslim University Student's Union.
3. During his political career he served as a cabinet minister during 1984 – 1990, under two different political affiliations.
4. He always stood with progressive thinking within Muslim community, and had to lose his cabinet power, fighting for women rights and benefits in the 1980s. He was against the denial of rights for Muslim women, solely based on religious beliefs, and even stood against his own political party.
5. When Supreme Court gave the judgement on Shah Bano case, then Minister of State in the Ministry of Home Affairs Arif was asked by PM Rajiv Gandhi to defend the Supreme Court judgement in Parliament. His speech was unanimously hailed too. He was only 35 then. But later government took a U-turn and passed the controversial Muslim Women (Protection of Rights on Divorce) Act, 1986. He resigned from the Congress very soon.
6. In 2019 he supported NRC and CAA of BJP-led central government, for which he was heckled and disrupted during a speech at a public event in Kannur University. This incident led to hot debates in national media.
7. He is also a writer and articles and columns related to Islam and Sufism.
(Visited 242 times, 1 visits today)