20 Best Peppy Numbers of Shammi Kapoor
The Yahoo Star of Bollywood – Shammi Kapoor popularized fast and peppy numbers of Bollywood in the 1960s. Till 1960 Hindi films were known for its melodious slow track numbers, and with a single 'Yahoo' song Shammi Kapoor created a benchmark for fast songs in Bollywood, no doubt. Mohammad Rafi's voice was synchronous to the screen magic created by the dancing star onscreen, and how many songs were born in the 1960s with trademark 'Shammi Style'! His high octave energy level for the song sequences made him extremely popular among youngsters, and gives a positive energy as well. Have a look at my choice of best 50 songs of Shammi Kapoor.
In an era of slow songs, Shammi through his distinct style created a new array of songs exclusively for those who loved westernized dance numbers, and still now this great actor is known for his evergreen songs of 1960s that stand against time. Most of the title tracks of his movies were peppy numbers and extremely popular. Among all Bollywood actors, he is definitely the hero who teased his onscreen heroines most, and it gave several teasing and entertaining songs to Bollywood of the period as well.
I should say it was Shammi Kapoor's songs which made me a great fan of Bollywood and Mohammed Rafi songs. I got drawn to Shammi's screen magic at the age of 7 or 8 since I heard a few songs of movies like Kashmir ki Kali, Junglee etc, and his 'shivering style' for song sequences entertained me as I was a little child. It's not easy to pick best of his 10 fast numbers and so I picked 20 of his best fast songs. A strange co-incidence too, Rafi is the ghost voice of Shammi Kapoor in all these 20 songs I selected, though it was unintentional.
1. Yahoo from Junglee – No doubt Yahoo song gave rise to a new star of Bollywood in the year 1961. Though he stayed in Bollywood for more than a decade, it was this single movie which placed his name among A-grade actors of Bollywood. The title song – Chahe Mujhe Koi Junglee Kahe is the most popular track of the movie. Only a few know that 'Yahoo' phrase was originally sung by Prayag Raj, but it shot both Shammi Ji and Rafi to instant fame.
2.
Title track of Dil Dekhe Dekho
– Dil Dekhe Dekho
was the first major hit of Shammi Kapoor, and the movie also marked the debut of two cine personalities, Asha Parekh – the actress and Usha Khanna – the female composer.
3. Aaj Kal Tere Mere Pyar of Brahmachari – The movie gave him his single Filmfare award for best actress. This sizzling dance number featuring Mumtaz and Shammi Kapoor is one of the best dance numbers in the late 1960s.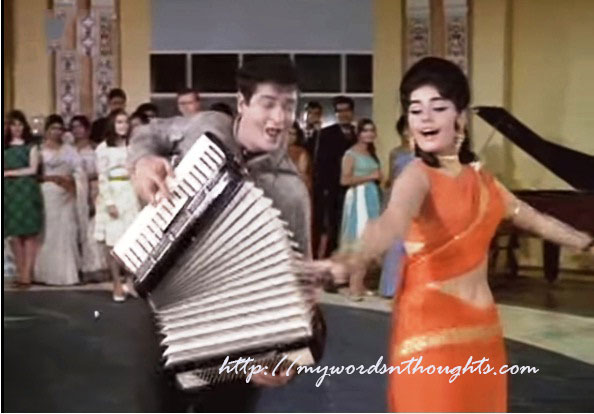 4.
Baar Baar Dekho of China Town
– Shammi was paired with Shakila for this film, and this peppy dance number was extremely popular in those days.
5. Aaja Aaja Mein Hoon of Teesri Manzil – Songs of this movie gave R. D. Burman the big break to Bollywood he was waiting for. Though R. D has given music to less number of Shammi movies, its compositions marked the beginning of new era of R. D.
6.
O Haseena Zulfonwali Jaane Jahan of Teesri Manzil
– Another popular song for the same movie, this item song was pictured on Helen, and gave big break to Asha Bhosle as a singer. Mohd. Rafi also added extra magic to this wonderful song.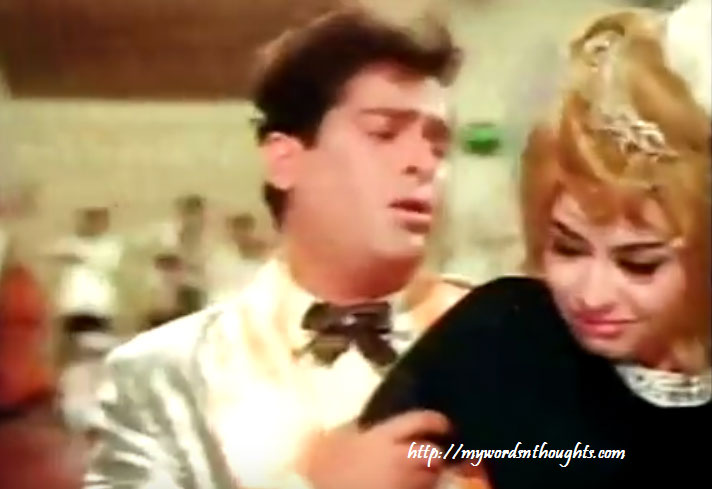 7. Akele Akele Kahan Jaa Rahe Ho

of An Evening in Paris
– Sharmila Tagore was seen as an extremely glamorous doll in this song, and Shammi's distinct style and Rafi's magical voice made this song an instant chartbuster. All the songs of the movie were extremely popular.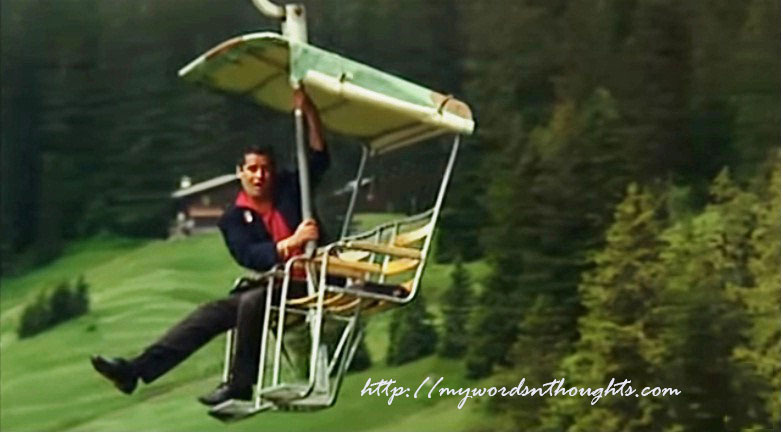 8.
Yeh Chand Sa Roshan Chehra
of Kashmir Ki Kali
– Lovely pictured on a lake of Kashmir, Shammi too was in his full energy mood for this song. It's a beautiful romantic track too with lovely lyrics.
9. Kabhi Hum Ne Nahi Socha of Tum Se Achcha Kaun Hai

– What a lovely song towards the end of his career as a romantic hero of Bollywood. Definitely this song deserves a position in my list.
10. Tum Se Achcha Kaun Hai of Jaanwar – This teasing number belongs to the movie Jaanwar. Covered in a blanket, he teased Rajshree in this song.
11.
Badan Pe Sitare Lapate Huye of Prince
– Shammi has seen several times performing in party songs and club songs and this lovely song can never be excluded from Shammi songs' list belongs to this genre. In the song he tries to impress Vyjayanthimala. Like many similar songs, a villain is present in this song also. While Pran plays the role most number of times, Ajit plays villain role in this song.
12.
Hum Hain Rajkumar of Rajkumar
– This fast track title song is not a great number comparing other romantic songs of the movie. Yet I would like to add this song from the film.
13.
Suku Suku of Junglee
– Apart from the popular 'Yahoo' song, this particular funny song also needs mention. Shammi acts as if he is mad in this song.
14. Laal Chadi of Janwar – Apart from Tum Se Achcha Kaun Hai song, this particular song too is impressive, and needs mention in the list.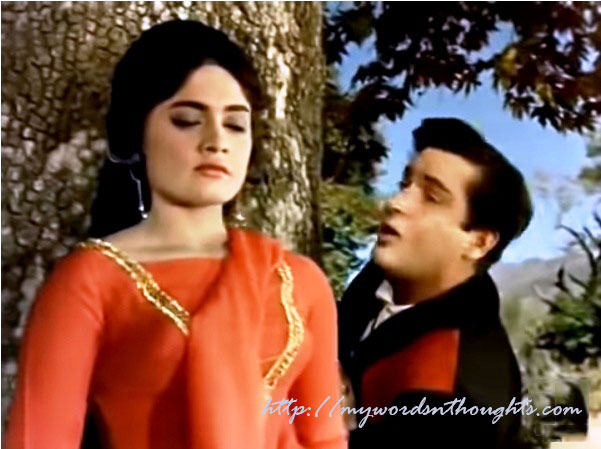 15
.
Kis Kisko Pyar Karu of Tumse Achha Kaun Hai
– The movie is remembered for its lovable songs, and this fast number watched Shammi Kapoor as a performer.
16.
Khuli Palak Mein Jhoota Gussa of Professor
– Kalpana is one of the rarest actresses who never got big opportunities in her acting career, and definitely Professor is her best movie, for which she is remembered for. This popular song is definitely a peppy track belonging to the film.
17.
Govinda Aala Re Aala of Bluff Master
– The most popular track of the film, the movie was a box office hit also.

This festival song on Janmashtami is still popular.
18. Budtameez Kaho Ya Kaho Janwar of Budtameez – It's to be noted that most of his film titles are unique – Junglee, Janwar, Budtameez, Bluff Master etc, which pictures him as a bad guy or teasing boy. He has been extremely popular with these titles among his female fans also.
19.
Diwane Ka Naam To Poochho of An Evening in Paris
– The movie had some extremely popular fast tracks, and the movie is known for its fantastic shooting locations of Paris. Sharmila Tagore played a double role in this film.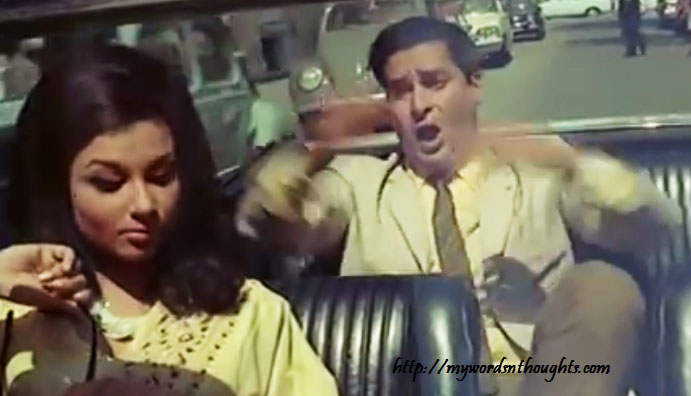 20. Chakke Mein Chakka of Brahmachari – I would like to conclude the list with this children's song belonging to the movie – Brahmachari.
If I have missed your favourite fast number of Shammi in the list, please let me know.
Read a few more articles about Yahoo star of Bollywood – Shammi Kapoor. Here is the page link. Click on the images to read.
(Visited 3,666 times, 1 visits today)