Tricolour Idli Pizza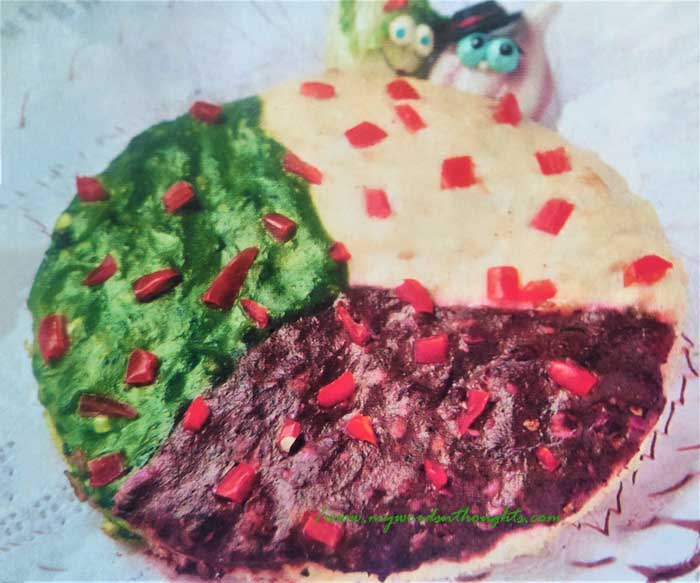 Ingredients for Tricolour Idli Pizza:
1.Idli batter – 1.25 cups
Chutney powder – ½ – 1 small spoon, as required
2.Oil – 2 big spoons
3.Onion – 1, chopped fine
Paneer – 50 gm
Crushed chillies – 1.5 small spoons
Butter – 1.5 small spoons
Ajwain – A little (optional)
For white sauce:
4.Butter – 2 big spoons
5.Maida – 4 big spoons
6.Milk – 1 cup
7.Grated cheese – 1 cube
8.Ground palak – 2 small spoons
Butter – ½ small spoon
9.Ground red spinach – 2 small spoons
Butter – ½ small spoon
10.Tomato – ½, chopped fine
How to prepare Tricolour Idli Pizza?
1. Pre-heat oven in 180 degree Celsius.
2. Add chutney powder to Idli batter and transfer it to a dish in the same size of pizza base.
3. Steam cook it using a steamer.
4. Heat oil and sauté ingredients no: 3 except ajwain.
5. Add ajwain once it is done (optional).
6. Apply this mixture on the top of idli pizza.
7. Heat a little oil, add maida and fry it.
8. When it turns golden brown, add milk and keep stirring to avoid formation of lumps.
9. Add cheese and keep cooking till the mixture thickens, and put off the flame. This is the white sauce.
10. Divide white sauce into three equal parts.
11. Sauté spinach paste and palak paste separate in butter.
12. Add one part each of white sauce to above sauted pastes.
13. On the top of pizza base, spread each part as triangles.
14. Third part can be filled with white sauce.
15. Sprinkle chopped tomato on the top of pizza.
16. Place in pre-heated oven for 10 minutes and use.
Note: You can also skip the final step of baking. You can also prepare topping with any vegetable of your choice.
Courtesy: Vanitha Magazine June 1-14, 2010
Also read a few rice main course recipes. Click on the images in the gallery to read.
(Visited 25 times, 1 visits today)