The famous devotional song, 'Alaippayuthe Kannaa' was born in Oothukkadu Kalinganarthana Perumal Temple of Thanjavur
Oothukkadu village near Kumbakonam is known for the centuries-old Kalinga Narthana Sree Krishna Temple, also known as Oothukkadu Kalinganarthana Perumal Temple. The temple has so much significance because popular Tamil devotional songs of Lord Krishna such as 'Alaippayuthe Kannaa' and 'Adaathu Asangath Vaa Kanna' were born here centuries back.
All roads and paths lead to the temple steps of Kumbakonam, the place known for numerous ancient temples. Kumbakonam – the place for 1000 Hindu temples! Some beautiful and ancient art pieces are hidden behind concrete buildings. Yet everywhere you can find temple gopurams behind homes and other buildings. Those who have reached Kumbakonam in search of spirituality and divinity, the place has so much to give. But this particular temple of Oothukkadu is in the outskirts of Kumbakonam. It's near to Avoor, the famous Kalinga Narthana Sree Krishna Temple.
Little Sree Krishna dancing on the head of Kaliyan is the presiding deity
You can see only a few temples across India, where presiding deity Krishna is seen as a young kid dancing on the head of Kaliyan. Centuries back a poet and Krishna devotee sang the devotional song, Alaippayuthe Kannaa for the first time. Adaathu Asangath Vaa Kanna, Kuzhaloothi Manamellam Kollai Konda, Neerada Sama Neela Krishna, Thaaye Yesodaa, Kalinga Narthana Thillana etc are a few more Keerthans born in front of Lord Krishna here. Venkata Subba Iyyer also known as 'Venkata Kavi', who lived during the period 1700-1765, authored these songs in a combination of Tamil and Sanskrit languages. He also tuned them based on Carnatic music. Centuries have left behind, yet these songs have not faded away.
Venkata Kavi – Krishna devotee
Venkata Subba Iyyer or Oothukkadu Venkata Kavi was one of the early artists of Carnatic music. Originally composed in the 18th century, his works have been passed to future generations through descendants and now around 500 are available. Most of his songs are filled with devotion towards Krishna, composed in a rejoicing mood. It's believed that the most popular 'Alaippayuthe' song is a musical representation of his soul and spirituality. Keerthans like Alaippayuthe and Thaaye Yasoda were composed as a part of musical skit, and it was based on Bhagavatham. He has also praised other Hindu gods through his songs. It's believed that he is an incarnation of Narada, who was instrumental in constructing Lord Krishna temple here.
The divinity of Oothukkadu village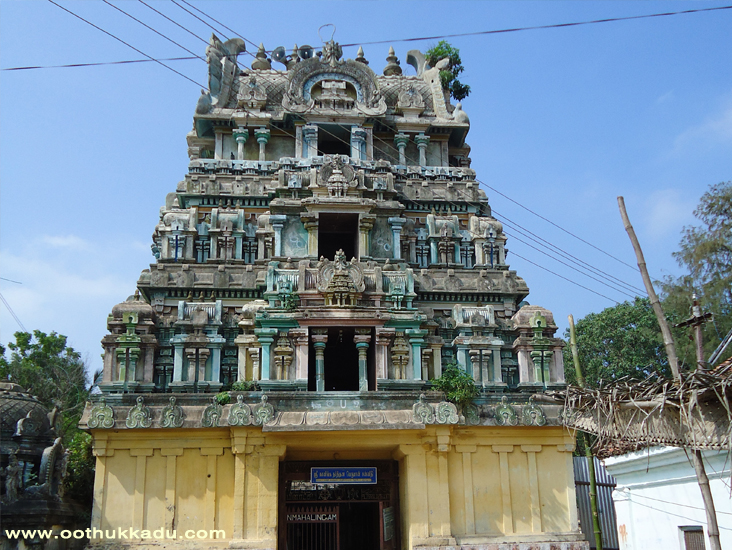 The whole place holds a rural village beauty. Women selling garlands, villagers going to markets with vegetables for sale, farmers and shepherds with goats and other animals… It's a beautiful sketch in the evening when we move from Kumbakonam to Oothukkadu for the evening prayers at the temple. Isolated local paths are also visible. There is a Brahmin colony in front of the temple where kids play till late evenings.
The whole divinity and spirituality of Oothukkadu village are absorbed into the small temple. The main Gopuram is depicted as Adi Seshan. In the pillars, dancing beauties and mudras have been beautifully scripted centuries back. Just near to the opening entry is the deity of Lord Ganesa. A flag post can also been seen, and on its either sides small temples of Upadevatha (sub-deities) are also placed in rows. Sculptures of 10 avatars of lord Vishnu can also be seen. On the right side of flag post, there is a small stone statue of Venkata Kavi, where he is worshipped. 'Venkata Kavi Music hall' is a small platform near to it.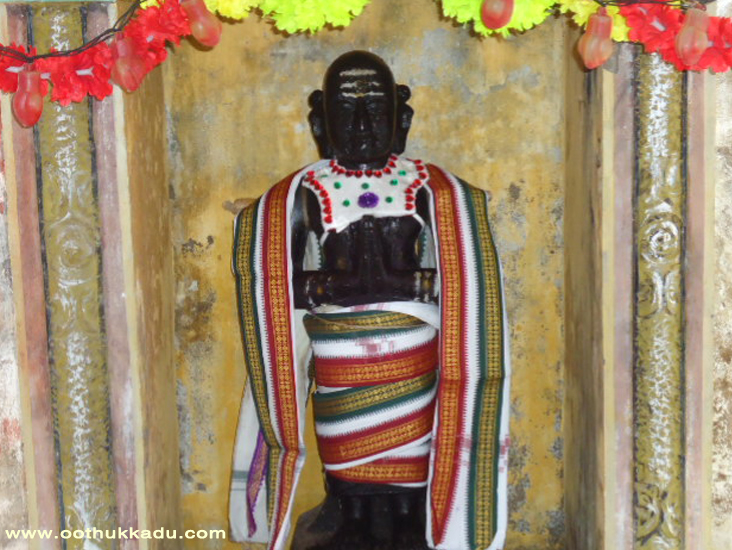 Krishna's statue is the real wonder
There is a legend behind the temple and presiding deity in the form of dancing Krishna. It's believed that the dancing idol of Lord Krishna is 'Swayambhoo' (not made, but got). It's believed that the idol was got from nearby pond and was installed by Lord Narada. In the ancient times, this place was known as Pushpavanam, and the story goes like this.
Children of Kamadhenu, Nandini and Paatti who resided in Kailasanathan temple of Kumbhakonam used to offer milk as nivedyam every day to Lord. They collect flowers in the early morning from Pushpavanam of Oothukkadu village. Once while the calves were collecting flowers, they happen to hear about Kaliyamardhanam story of Lord Krishna from saint Narada. Their eyes were filled with tears when Narada narrated the part of Lord Krishna dancing on the 5 heads of Kaliya. They were deeply moved by the fact that young Krishna was only 5 years old when he fought against the serpant Kaliya (Kalinga). Even after reaching home, they couldn't forget it.
When their mother Kamadhenu came to know about it, she visited Lord Vishnu at Vaikundam and requested him to give a solution for their grief. Lord Krishna appeared before the siblings at Pushpavanam, and danced Kaliyamardhanam once again. He comforted them saying that Kaliyamardhanam was only a part of his Balaleela, and the young calves were astonished seeing dancing steps of Krishna.
Narada requested Lord Krishna to reside here in Kaliyamardhanam pose, in a place so beautiful as Vrindhavan, and he agreed. Krishna resided here, and Narada named this place as Gokulam. It's also believed that Venkata Subba Iyyer who authored numerous Krishna keerthans, was an incarnation of Narada in the 18th century. It's also believed that poet used to pray before Lord while sitting here and writing poems and Lord Krishna used to dance in front of him.
There are several myths related to the rare Krishna idol, which is known to be 'Swayanbhoo'. But the temple priest is not allowed to reveal too much details, as per traditions and rules. Lord Krishna takes Kaliyamardhanam dance form. Right leg of the idol is held high in the atmosphere and the left leg is held on the head of serpent Kaliyan. It's believed that there is a very narrow and paper thin gap between left leg and Kaliyan's head. Left thumb touches the tail of Kaliya, while the rest fingers are not so. There are symbols and wounds in the foot of Lord Krishna, caused by his fight with the serpent.
As the idol is decorated with ornaments some secrets are not easily revealed. Krishna wears silk attire with silver and green shades. The holy calves – Nandini and Paatti reside on his either side and at the rear end, Bhoodevi and Sreedevi. In the luminous atmosphere of lights, Krishna's foot sinks in its glory as if hiding some mystery.
The annual Janmashtami celebration is auspicious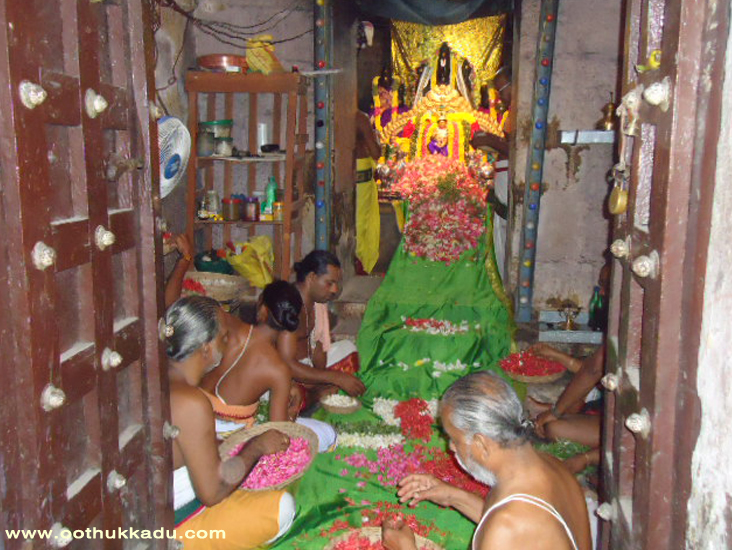 This temple with rare idol has some significance and specialities. Among the 108 Vaishnava temples, poojas for Sarpa dosha are conducted only here. An idol of divine Garuda is installed inside the temple premises. As per popular belief, worshipping Lord Krishna here removes all obstacles for artistic career, and for the same reason artists associated with different art forms regularly visit this temple to find a solution to their hindrances of their professional careers. They pray and give offerings here.
Rohini star of every Malayalam/Tamil month is celebrated here with special poojas. On Janmashtami day, various programmes are conducted including Uriyadi, dance and musical shows etc. Same day musicians sing Keerthans of Subbha Iyyer at 'Venkata Kavi Music hall', and villagers spent the whole day in front of Lord Krishna with prayers. The Janmashtami day is so auspicious that artists from distant places including neighbouring states also visit this temple and give their performances.
In the memory of Venkata Kavi
The poet spent his whole life in the temple premises reciting Keerthans in praise of Lord Krishna and others. As told earlier, it's believed that Krishna used to dance before him while he composes songs. Also there is a popular belief that Lord Krishna used to hide behind forests and play flute specially for the devoted poet, and in some occasions played flute and danced before him. One such occasion might have given birth to the ever green song, Alaippayuthe! Through words the poet asks Lord if it is Dharma to make him loiter around and make him feel pain in search of Krishna.
There is one home in front of the temple – 90-years old 'Gokulam'. On the right side of the house, there is a piece of land, where the poet resided in his house (as per popular belief). Sadly there is no memorial of this celebrated poet in his birth village. As it's believed that Venkata Kavi lived in that particular portion of land, its owners who purchased the whole plot 90 years ago have not made any alterations there.
Long lost Gokulam
In the Keerthans, lot is told about greenery and beauty of the temple premises. Those songs are centuries old and we can't find its reminiscences now. Still the place holds a divine beauty and illusion of Gokulam, Krishna's playhouse. You can still find the pond from where Krishna's idol was retrieved. It's partially filled with bush. Even at hot summers, pond is filled water.
Common folk of the village are poor farmers. Most of them are associated with cattle farming, and also cotton cultivation. You can find hay stalk at the courtyard of almost every home here, and also ox carts. Goat folks are seen in the front side of closely arranged homes. Villagers also gather here and there, engaged in their daily conversations. Yes, greenery of Pushpavanam has gone, but not the rural life and the folklore culture of the village.
How to reach Kalinga Narthana Sree Krishna Temple of Oothukkadu?
The ancient temple is located in Papanasam taluka of Thanjavur district, Tamil Nadu. It's situated in Patteeswaram – Aavoor bus route, 14 kms away from Kumbakonam. It's believed that the temple was constructed during the reign of Chola kings. The temple is more than 1000 years old, and has been renovated in the recent past. Annual temple festival falls on the eve of Janmashtami, Krishna's birthday. Special poojas are available as a solution to Rahu and Ketu Dosham.
Note: All images have been taken from the official website of the temple.
A few more temples to visit…..
(Visited 439 times, 1 visits today)