Onakkalikal – For fun and recreation
Every festival is associated with some customs, beliefs and of course a few sports and recreation items. It's common to associate some sports with a particular festival season. During the glorious era of Onam celebrations, where joint families celebrated the event together, there were numerous sports associated with it. As families blew apart, bonds became virtual and an era of nuclear families arose, many of those sports associated with glorious yesterdays too faded slowly. Yet some of the sports are still associated with Onam season, giving nostalgic memories of joint families and childhood days of course.
As villages have paved way to townships and cities, it's not common to see people playing Onam sports in the urban area. Playgrounds have almost diminished, yet Onakkalikal are associated with rural Kerala. But nowadays, residential associations, educational institutions and offices celebrate Onam in grand fashion, and many of the Onam sports are also brought alive for a short while. It's a welcoming move, of course to promote some of the Onam sports that would have faded away without proper attention.
Onakkalikal forms an integral part of Kerala culture and tradition, and of course a signature of transmission of a few values from past to future generations. The celebrations are closely associated with many sports and dance forms for recreation purposes. Kaikottikali, Thumbikali, Kudamoothu, Sankhapaattu etc gave a procession of entertainment to Malayalam speaking people during Onam time. Kaikottikali, Thumbikali, Kudamoothu etc are exclusively reserved for ladies. Though some of such sports now stay in memories of old people only, let me try to recall a few.
Vallam Kali (Boat Race) – It's perhaps the most popular sport associated with Onam season. Onam is a season of boat races, and such competitions are arranged across the state where lakes are present. Boat races are promoted by Kerala tourism in a broad way, and have gained much attention in the recent times. Read more about major boat races of Kerala and Jalolsavam of Kandassankadavu, Thrissur.
Kalam Adi (Breaking pots)
– It's a popular Onam play played across school and college campuses. A clay pot will be placed on the ground, and a player will be given three occasions to play the game. His eyes will be closed tightly with a piece of cloth, and a stick will be given in his hands. His friends also rotate him in such a way that he forgets the direction. Within three strikes he needs to break the pot. The person who succeeds to do so will win the game.
Sundarikk Pottu Kuthu (Bindi for the beauty)
– A picture of a beautiful lady is fixed on a wall. Usually film stars are preferred nowadays. The participant needs to tie his/her eyes first. Then he/she will be given a bindi, and he/she needs to fix it correctly on beauty's face. The person who fixes it perfectly on her forehead with closed eyes will be announced as the winner.
Kaikottikali
– Quite similar to Thiruvathirakali, the ladies clap their hands while performing. A lamp will be placed at the centre, and the ladies wearing traditional Kerala sari dance around it in circular motion. Kaikottikali literally means dancing by clapping hands. Kaikottikali during Onam season surrounds around Onam, Maveli and Vamana Moorthy, and stories related to them.
Kummiyadikkuvin Kummiyadikkuvin
Kummiyadikkuvin Kootukare
Vammala Naadinnadhipathi Thambraante
Sangada Gaatha Paranjidaam Njaan….. Thus it goes.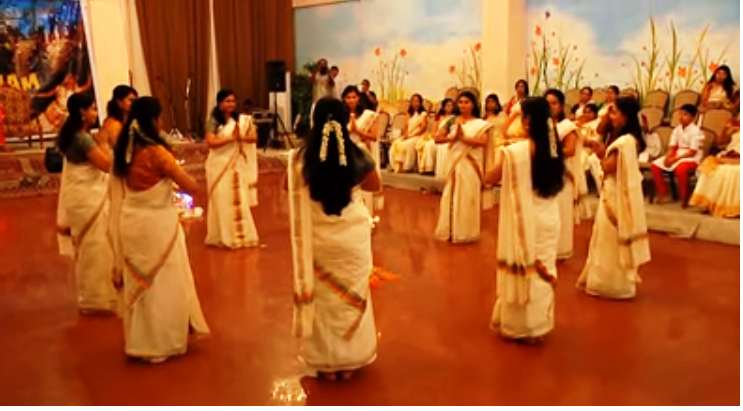 Thumbithullal – It's a trademark sport for girls associated with Onam season. But sadly, over the years it has lost its popularity, and has almost disappeared even from remote villages. A circle will be drawn first. A girl named as 'Thumbi' (dragon fly) will sit in the centre with closed eyes while the group sits around her. The group sits around her, and they prompt her to dance in sitting posture. There are some traditional songs associated with Thumbithullal. "Ente Thumpi Thullathe, Poo Poranjo, Pookkila Poranjo" is the traditional song sung by the group. Yet another popular song goes like this.
"Thumpi Thumpi Thullaan Vaa
Thumpakudam Kond Maala Tharaam
Chembakapoovu Madiyil Tharaam
Ampathu Thaamara Poovu Tharaam"
The girls who sit around thumpi thus try to lust 'thumbi' with many promises. Starting in a slow fashion, as time passes by, the mood turns rigour. The girl sitting in centre starts dancing and slowly it reaches a fast mode. She carries a bunch of flowers in her hands. Full time she sits and dances, called Thullal in Malayalam, and use the bunch in her hands to make rigour moves. She loosens her hair as well. Once again, they slowly return back to original position. She falls unconscious in the final stage of the sport, and people sprinkle cold water from a brass vessel to wake her up. She will be given tender coconut juice or milk to drink. Thumbithullal is also seen as a traditional art form (Anushtaana Kala) also.
Onathullal
– Onathullal was quite popular in Thiruvananthapuram and Kollam districts, and now rarely seen. It is also a traditional art form, where participants include both men and women. Mahabali songs (Mahabali Pattu) are recited by men in rhythm while two ladies dance to the tunes. They wear crown on their heads, and carry tender coconut leaves (Kuruthola) in their hands while dancing.
Onathallu – It was quite popular during the reign of landlords. It was one of the most popular recreation sports played during Onam time. Though it has lost its charm over the years, it is still played as a sport in some rural places of Kerala. Read here to know about Onathallu in detail and other Onam sports of Thrissur district. During old days, the participants grouped into two, start the game as soon as landlord commences it. The participant who breaks the rules will be sent out. Usually men with good physique and strength participate in this sport.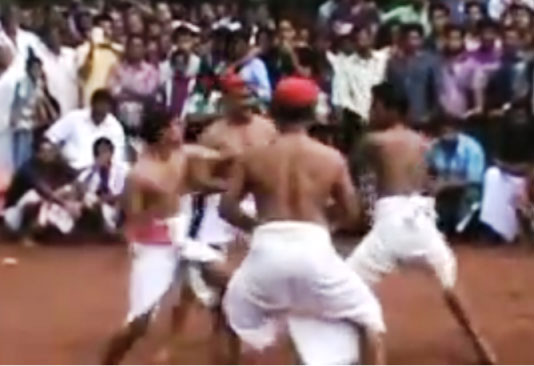 Vadam Vali (Tug of War)
– It's one of the most popular Onam sports played across Kerala, and Onam celebrations arranged by associations and educational institutions. There will be two groups for Vadam Kali. 'Vadam' means Rope in Malayalam and 'Vali' means Pulling. The centre of the rope will be marked by a piece of cloth, and as soon as game starts, both groups try to drag rope to their side. The group which succeeds in it wins the game. If it is seen as a recreation sport, a bunch of banana will be given to the winner. Cash prizes are also announced if it is a serious competition.
Pulikali/Kaduvakali – It's usually played by men, who disguise themselves as tigers and leopards to entertain people. Hunters will also be present. In rural areas tigers dance on Thiruvonam day, usually beside athams and hunters with guns in hands try to shoot them. Pulikali in Thrissur is very famous, where participants paint their whole body with multi-colours, and entertain people. Click here to read more.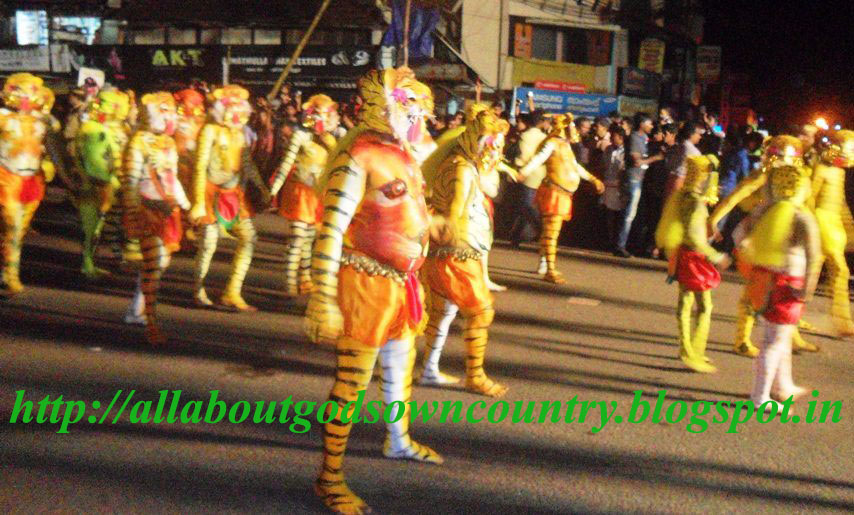 Kummattikali
– It's a traditional folk item associated with Malabar and Thrissur during Onam season. Though associated with Hindu mythological stories, all people irrespective of religious beliefs enjoy the occasion. Kummattis are believed to be 'Bhoot gan' of Lord Siva who visit the people of Kerala to know their welfare. As per popular believes, Lord Siva instructed them to entertain King Maveli who visits his subjects once in every year. Only male participants become Kummattis, covering whole body with Kummatti grass and wearing a colourful mask of any character, mostly related to Hindu mythology. The group is led by Thalla – an entertainer. Read more
about this colourful mask dance
.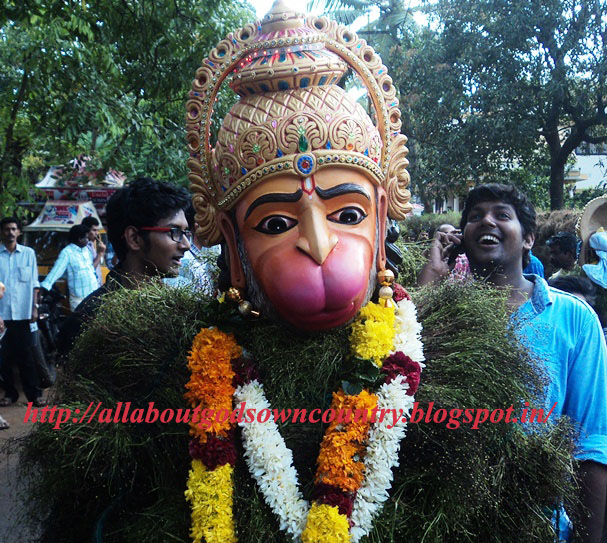 Kudamoothu
– People divide into two groups, and they bargain for a golden pot. The lady with pot will be seen along with one group. The other group bargains for the pot.
"Kudamoothedi Kudamoothedi Kudamenthum Penne
Ninte Kudathinte Vilayethra
Kudamoothaam Kudamootham Kemathi Penne
Ente Kudathinte Vilayithiri
Koodipoyi Kanne……" and thus it goes.
The other group resists this bargain and thus goes this interesting sport.
Poopaattu – This sport consists of two groups of people. A line is drawn at the centre of the ground, and the two groups stand on either sides. One group invites the other by giving descriptions and false promises in song phrases – "Pooparikkaan Porumo Porumo" (Can we go to collect flowers?), while the second group stands firm at the decision, 'No'. Later it results in their attempts to bring persons from the other side of the boundary line using muscle power.
Onakalikal of elders

–
Pulikali, Kaduvakali, Vadam Kayaral and Vadam vali is quite familiar to all. Boat race without water is yet another entertaining sport of the season. They sing in rhythm and take steps to reach predetermined point in this imaginary boat race. Songs related to Maveli sung in Vanchipaattu style are most commonly used.
Onakkalikal of Kids
Kids make Olapanthu (ball using coconut leaves) during Onam season. They remove the central nerve of coconut leaves, and start making balls. One kid stands in the opposite direction and sings a song in one breathe….
"Olapanthu Medanju Medanjedu
Thangottonnadichingottonnadi –
Tichangottonnadichingottonnadi……."
He stops singing to take a breathe. The kid who completes the Olapanthu first before he stops will emerge as winner, and given the title King or Queen.
Chillukali is yet another popular game of kids, which is a continuation to Olapanthu game. Uttering the 10 stars from Attam to Thiruvonam, kids arrange small stones one above the other. The other members won't allow him to complete the task, and they make use of Olapanthu they made just before. They try to throw Olapanthu at the stones to disrupt him. The participant who first completes 10 stones will be declared as winner.
Kasthuri Mampazha Kali follows this game. It resembles Kilithattukali. An object will be assumed as Kasthuri Mampazham and placed in a stool. Columns will be drawn, and the opponent tries to reach the stool to take Kasthuri Mampazham. The participant who grabs it will be caught by other children, and a procession is done around the ground.
Mahabali Kali is yet another popular Onam sport of kids. In a broad board, the participant tries to write 'Mahabali'. But his opponents try to disrupt him from writing, adopting different methods.
Go through the gallery to read a few more interesting articles on fun, recreation, myths and traditions associated with Onam season. Here is the page link. Click on the images to read.
(Visited 1,346 times, 1 visits today)