Mohammed Rafi – Flashback to a deteriorating remark made on his singing style last year
A beautiful drive to the recording studio of Madhumati
Silence is spread everywhere in recording studio. The atmosphere is filled with some sort of melancholy. There stands Rafi in front of microphone to sing a sad melody on love failure. 'Toote Hua Khwaabon Ne Hum Ko Yeh Sikhaya Hai' – the song from Dilip Kumar starrer Madhumati, composed by Salil Chaudhury composed in the late 1950s. There was no feeling of happiness on the faces on those who heard this recording from console. Film director Bimal Roy, lead hero Dilip Kumar, music composer Salil Chaudhury, lyricist Shailendra and sound Engineer Badrinath Sharma were among those.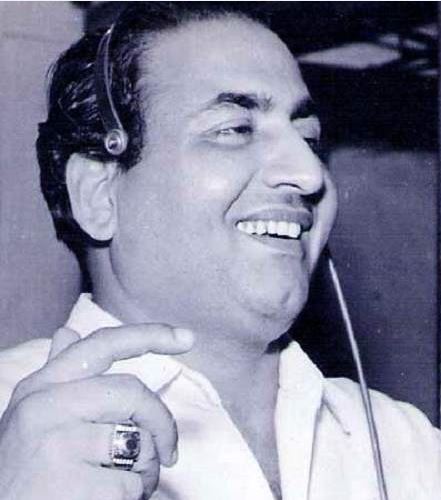 After recording the song, when Rafi came out he got astonished seeing the pale face of his spectators, and he asked, "Why are you so gloomy? Didn't you like my rendition? Don't worry; we can take one more take." It took only a few minutes for Rafi Saab to know that this gloomy expression shown on the faces of his spectators is to give one of the most precious moments of his singing career, far exceeding the accolades he received till then. "You made us cry. It was a heart breaking moment", Shailendra remarked. As usual, Rafi responded with his innocent smile, and whispered with humbleness, "The agony and depression elements in those words touched me a lot. That may be the reason why it got well."
Have anyone present in that recording studio then predicted that this rendition is to stay live in the hearts of millions after 50 or 60 years? The story doesn't end here. Rafi had to record one more song from Madhumati the same day- Jungle Mein Mor Naacha – a fun filled song filmed on Johny Walker. Sound Engineer Badrinath Sharma commented that it's not wise to ask Rafi to record this comedy song soon after rendering a highly emotional song. But by that time, Rafi has already started preparations for next song. It was a pleasant surprise to Bimal Roy and his team to watch Rafi to get over the sad mood of Dilip Kumar and perform for a fun filled song of Johny Walker very soon. He changed the mood within a short interval of time.
"It's just a part of my job", Rafi told later. He also added that a singer should be prepared to sing to any mood at any time, and as a singer he is obliged to his fans and the big music industry which has big expectations from him. Recordist Sharma later remarked that he witnessed the professional side of Rafi the same day. In an era of music when there were no provisions of digital mixing, cutting or pasting and when songs were recorded 'one set in a go' fashion, it's not easy for an artist to record two songs of two entirely different moods in a short interval of time. That's the legend Rafi Saab.
Remarks made about Rafi in a Karan Johar film of 2016 are really painful
When Madhumati got released in 1958, the film producer of 'E Dil Hai Mushkil' Karan Johar was not born yet. Late 1950s was a time when Yash Johar, father of Karan worked as a production assistant and assistant director in the film industry. Mujhe Jeene Do, Yeh Raasta Hai Pyar Ka, Guide and Jewel Thief – are some of the top hits of 1960s where Yash Johar worked as an assistant, and Rafi as a playback singer. Not only that, they shared a friendship in those days.
In 1980, when Yash Johar turned an independent film producer with Dostana, he recorded three songs in Rafi's voice, just before his death. The Rafi song, Salaamat Rahe Dostana Hamara is still ranked among top friendship songs of Bollywood. Years later, when his son made a movie coining the film title from one of Rafi's famous songs, one of its dialogues irked several Rafi songs. It's for the first time in the history of Bollywood cinema, a filmmaker or dialogue writer put enough courage to write a few lines mocking the singing style of Bollywood's greatest male voice.
In one of the film dialogues, film's heroine Anushka Sharma tells Ranbir Kapoor in a funny manner, "Rafi Gaate Kam, Rote Zyaada The (Rafi sings a little, he cries more)". This single dialogue disheartened millions of Rafi fans across the world, who see divinity in their idol's voice. Many people from music industry too strongly protested against the remarks made by a character in Karan Johar's film, Sonu Nigam, Bappi Lahiri and Rafi's son Shahid Rafi to mention a few. Sonu Nigam slammed the makers of the film and remarked that "if someone jokes about your father in a distasteful manner and your father is a big achiever then will you say it's Art, or it was just a joke!"
The dialogue has nothing significant to do with the story or situation. Even if that dialogue has been removed, it would have never affected the film anyway. But filmmakers justified their move that it's due to the respect to the great singer that they coined the film title from one of the famous Rafi songs (song from CID featuring Johny Walker). There was also one edited scene from the movie featuring the lead pair with Rafi song 'An Evening in Paris' in background. But none of these could save him from the wrath of Rafi fans.
"E-Dil Hai Mushkil" song from CID composed by O. P. Nayyar and penned by Majrooh Sultanpuri was made immortal through the beautiful rendition of Rafi, no one can deny this fact. Though the song was filmed on Johny Walker – the leading comedian of1950s, it was Rafi's versatility to fit into Walker's mood with perfection which made it a great hit. Also, the song was ranked first in the annual list of the most popular radio countdown show – Binaca Geetmala in 1956. Majrooh has one remarked that, not only Rafi is the greatest singer of his era, but also a versatile actor by all means. Romance, joy, sorrow, parting, parental love, expectations, sympathy, devotion, anger and comedy – Rafi has experienced his versatility in every mood he can, and has succeeded always.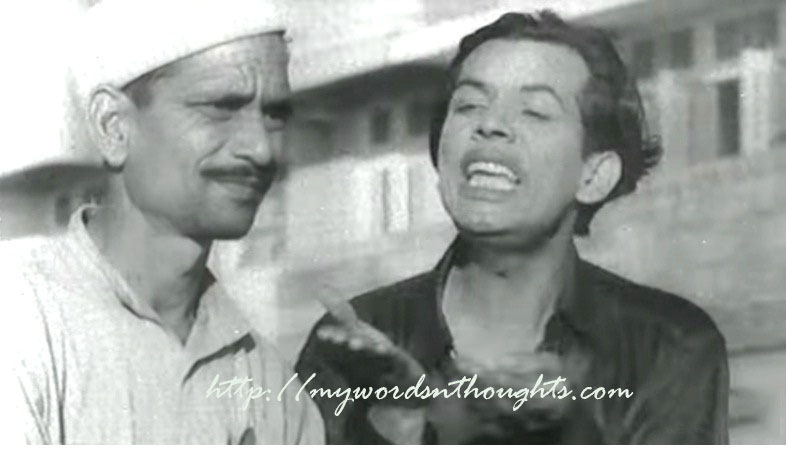 Karan Johar remarked through his film that he is just an ordinary voice. But in reality, it's not so. He was the heartbeat of the golden era of Hindi music, who binds together people belonging to different tastes and locality through his magical voice, irrespective of caste, religious or any form of discretions. When a voice, an integral part of Hindi cinema, which is still loved by millions, is given a remark that it's a crying voice, it's not just mocking a single artist, but the glorious era of Hindi music which is never going to return back. Rafi's soul might be rendering these words from some other unknown world,
"Chal ud jaa re panchhi
Ki ab ye des hua begaana
Chal ud jaa re panchhi..
Khatam hue din us daali ke,
Jis par tera basera tha….."
Click on the images to read a few more posts on one of the blessed singers of Bollywood ever – Mohammed Rafi.
(Visited 1,060 times, 1 visits today)