Khushwant Singh – Famous Indian writer and journalist
Khushwant Singh (1915-2014) was an Indian writer of fiction, journalist, politician and diplomat from Punjab. He was the son of the well-known contractor and builder in British India, Sobha Singh, who identified and testified against Bhagat Singh and Batukeshwar Dutt for bombs at the Delhi assembly in 1929, which resulted in the death sentence of Bhagat Singh and two associates. Khushwant received Padma Bhushan in 1974 and Padma Vibhushan in 2007. He served as Member of Parliament in Rajya Sabha during 1980-1986.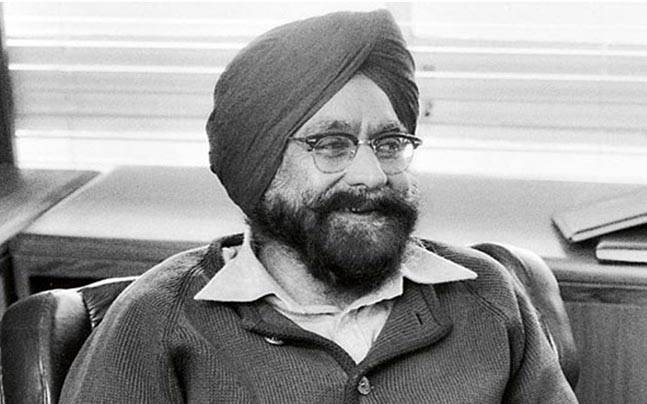 Khushwant Singh's birthplace now belongs to Pakistan Punjab. His father Sobha Singh was a prominent builder in Delhi while his uncle Sardar Ujjal Singh was a parliamentarian who also served as Governor of Punjab and Tamil Nadu in the 1960s. Khushwant Singh began his professional career as a lawyer at Lahore court in 1939. He joined IFS in 1947 and became a journalist in 1951. As a journalist he had a successful career with The Illustrated Weekly of India, The National Herald and the Hindustan Times.
He authored numerous novels and short stories during his life time, mostly in English. Train to Pakistan, Delhi: A Novel, Why I Supported The Emergency, I Shall never Hear a Nightangle and The Portrait of a Lady: Collected Stories are his major works.
Khushwant Singh – Some interesting facts
1. Born into a Sikh family, he was an atheist.
2. He was a descendant of Bhai Sangat Singh, a Chamkaur Sahib martyr in 1705.
3. He returned Padma Bhushan in 1984 in protest against Operation Blue Star by Indian army.
4. He always shielded his father's decision to testify against Bhagat Singh and Batukeshwar Dutt in Delhi assembly bomb case in 1929, for which he received negative response from media and public.
5. He was the founder-editor of government journal Yojana in the early 1950s.
6. In 2010, he received Sahitya Akademi Fellowship by Sahitya academy of India.
7. Bollywood actress Amrita Singh is his great-niece while Sara Ali Khan is his great-grandniece. Thus he is related to Pataudi family.
(Visited 390 times, 1 visits today)