Gulshan Bawra and R. D. Burman – Top 10 Bollywood songs
Gulshan Bawra, a noted poet and lyricist has regularly delivered hit songs over the years, when he was busy in Bollywood through 1960s-1990s. Among all composers, his works with Kalyanji-Anandji and R. D. Burman brought him appreciation. Nearly half of his songs were written for R. D. Burman, and most of them got noticed. Here I list 10 of the best R. D. Burman tunes penned by Gulshan Bawra. Their successful association began in 1975 with the chartbuster songs of Khel Khel Mein, and they carried forward their friendship for next one decade, till Pancham da got busy with offbeat movies and songs penned by Gulzar. I have sorted these 10 songs based on year of release.
1. Ek Mein Aur Ek Tu from Khel Khel Mein (1975), Singers: Kishore Kumar and Asha Bhosle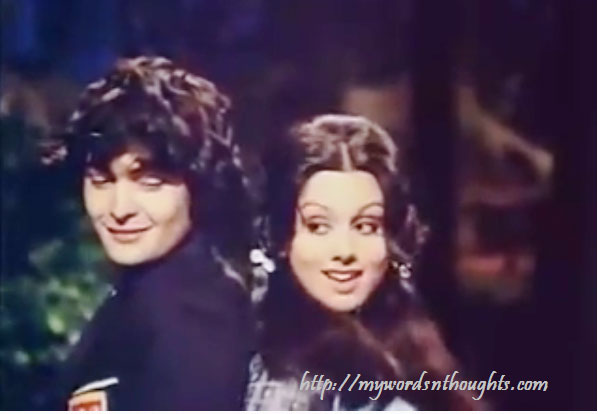 Let us begin this list with a fun-filled youth song filmed on Rishi Kapoor and Neetu Singh, who became a real life couple 5 years later. The song and its dance moves became such a rage across the nation when it got released, and is counted among one of the top duets of Kishore Kumar and Asha Bhosle. 'Humne Tumko Dekho' was yet another chartbuster fun song of the movie, featuring the lead pair.
2. Sapna Mera Toot Gaya from Khel Khel Mein (1975) , Singers: Asha Bhosle and R. D. Burman
My favourite song from the movie is the sad rendition of Asha Bhosle for Aruna Irani, where she appears as a performer. She has just lost her lover, and she shares some of her shattered hopes and dreams through this song. Rakesh Roshan also appears in the song sequence.
3. Aati Rehengi Bahaarein from Kasme Vaade (1978), Singers: Asha Bhosle, Amit Kumar & Kishore Kumar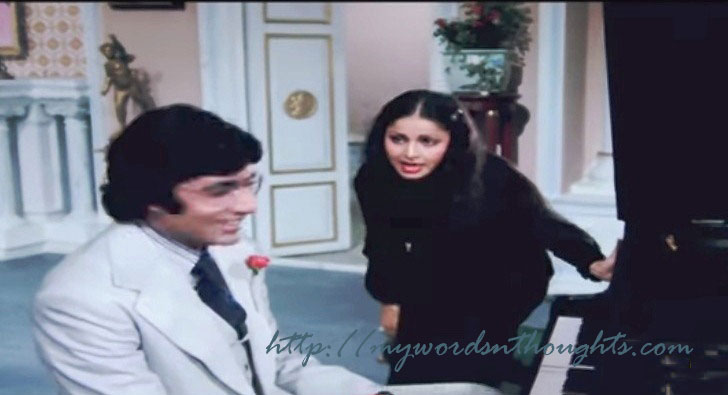 The songs of R. D. Burman and Gulshan Bawra combination became immensely popular between 1978 and 1983, and work of this Amitabh Bachchan starrer movie is one such. This highly positive song was filmed on Amitabh Bachchan, Rakhee and Gulzar, and they look extremely happy as a family, singing together. Three singers were used by Burman for those three artists.
4. Kasme Vaade Nibhaenge Hum from Kasme Vaade (1978), Singers: Kishore Kumar & Lata Mangeshkar
The title track is a romantic song filmed on the lovers, Amitabh Bachchan and Rakhee, before Rakhee losses her lover. Its lyrics penned by Gulshan Bawra really worked to add flavours to this romantic track.
5. Kitne Bhi Tu Karle Sitam from Sanam Teri Kasam (1982) , Singers: Kishore Kumar/Asha Bhosle
Though R. D remained the most celebrated music composer of 1970s, and earned multiple nominations, surprisingly he managed to bag his first Filmfare award only in 1982 for Sanam Teri Kasam, though its tunes can never be compared to Amar Prem, Katti Patang, Aandhi, Aap Ki Kasam etc which ruled the music charts in the 1970s. Thus Gulshan Bawra became a part of R. D. Burman's first achievement at Filmfare.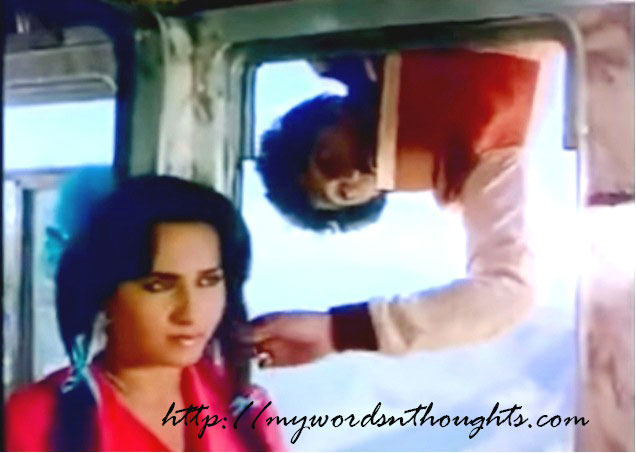 He recorded its songs in Kishore and Asha's voices and its peppy and dancing tunes were huge chartbusters. Gulshan Bawra penned the lyrics of all its songs, and in this song Kamal Hassan teases Reena Roy in a romantic style. The song also had a solo version sung by Asha. R. D also recorded a duet aside his wife Asha, Jane Jaan O Meri Jane Jaan which was the top song of the album. Though most of the songs were peppy, they emerged as the trendsetters of the era exclusively belonging to disco and high beat songs. This dance number featured Kamal Hassan and Reena Roy.
6. Dilbar Mere of Satte Pe Satta (1982) , Singers: Kishore Kumar
Though Amitabh Bachchan is less-linked to romantic films and songs, this particular song is definitely an exception. In this movie too, Amitabh appeared as a hero who doesn't know how to express love or how to be romantic (perhaps the only character throughout his career filmed this way), where he gifts apples instead of flowers to impress the heroine, Hema Malini. What a lovely song of Kishore da, and how beautifully Amitabh expressed his love on screen! Hats off to both.
7. Tu Tu Hai Wohi from Yeh Waada Raha (1982), Singers: Kishore Kumar and Asha Bhosle
One of the finest compositions of R. D. Burman ever, the song is extremely popular even today. The song featuring Rishi Kapoor, Tina Munim and Poonam Dhillion was sung by Kishore Kumar and Asha Bhosle. R. D worked with Gulshan Bawra in the late 1970s and early 1980s in many films, of which 'Tu Tu hai Wohi' is undoubtedly the best. This title track was used for more than one occasion, and closely linked with film's script too. The movie had some of the finest duets like Ishq Mera Bandagi Hai sung by Kishore Kumar and Asha Bhosle.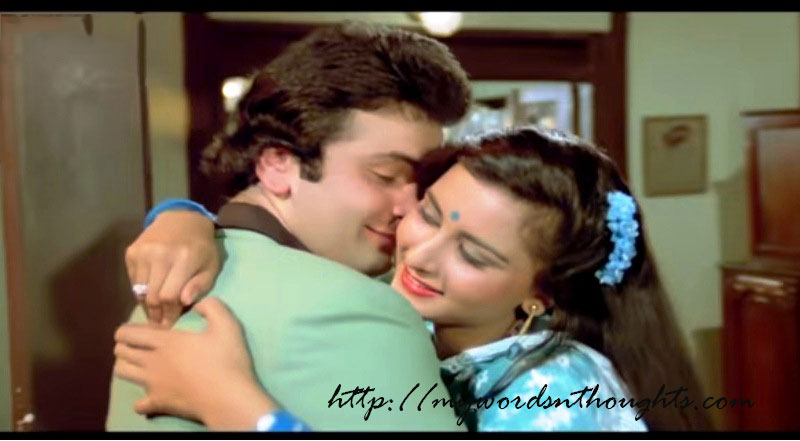 Let me share an interesting fact related to this song and movie from my personal experience. It was in the second half of 1980s somewhere, I was a small child, when I watched this movie on Doordarshan. In those days I was not familiar with Hindi, though I recognize regularly seen faces through Sunday movies, Rangoli and Chitrahaar (the only options to watch Hindi movies and listen to Hindi music those days). Though I didn't understand Hindi, I loved Bollywood music and movies. As a child I liked Poonam Dhillon and Rishi Kapoor a lot, though I don't know their names.
When I watched this movie I liked it so much, especially the song, 'Tu Tu hai Wohi'. The unique clapping hands of the lead pair during the song sequence got imprinted in my mind somewhere, the movie plot, some of its heart touching scenes and also the faces of lead pair. Song and tune also faded away from my memory. Years passed by. But I was still in search of the movie name, the song and those claps (only the storyline and claps were in memory), which I had to wait till 1997 or 1998, once again in Doordarshan while watching the song once again.
I had listened to the song 'Tu Tu hai Wohi' many times on Vividha Bharati which I became a fan in 1996, through which I got a deep bonding with Hindi songs. Yet I couldn't relate that song with clapping, as visuals were not available. Yes, it took a decade for me to identify a song and movie whose memories got imprinted in my brain when I was a small child. What to say, some pleasant memories are like this. I watched the movie later in 2008.
I added this fact here just because a conversation of this song took place with my daughter yesterday late night, when I shared this strange incident with her. Interestingly she loves to do that iconic clap scene for the past 2-3 years, though she is not at all interested in old Hindi films and music. I still can't figure out why she feels good while watching that clapping scene, and how it easily connects with my old search of that particular scene and movie. I am really surprised.
Strangely I shared one more such sweet childhood 'film' memory with her as a continuation to this talk. I told her, there is one more movie of 1980s which I watched in Doordarshan in the late 1980s with almost same story line which impressed me a lot, but still in search of that movie. I just believe the lead actor to be Jeetendra or Mithun Chakroborty and heroine as Reena Roy in a double role. I narrated her, the story of the movie from the three-decade old memory, but expressed my feeling, why I couldn't find the movie till now.
She suggested me to try online, and got interested as well. As I am not much familiar with masala entertainers of 1980s, I went through story plot of almost all Jeetendra movies released in the decade. Then I searched Reena Roy movies, and also googled for double role heroine roles as well as dumb heroine roles in Bollywood. Interesting? Then I just thought of trying with Mithun Chakraborty movies, and finally found it almost after two-three hours. The movie is Yaadon Ki Kasam, and the heroine is Zeenat Aman and not Reena Roy. I have planned to watch the movie once again, today afternoon after three decades.
8. Agar Tum Na Hote from Agar Tum Na Hote (1983) , Singers: Kishore Kumar/Lata Mangeshkar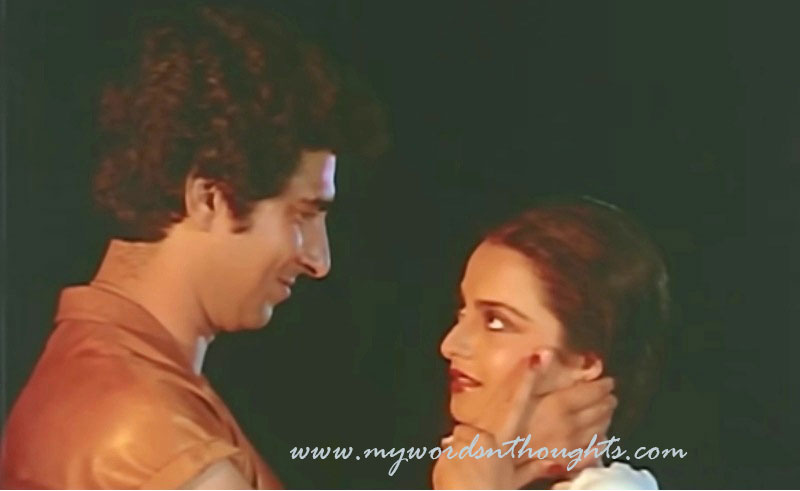 It was used as the theme song of the movie and used for continuity of the film. The song had solo versions sung by Lata Mangeshkar and Kishore Kumar and their duet version too and Kishore Kumar received Filmfare award for best playback singer. Rajesh Khanna and Rekha were featured in different versions of this song.
9. Bachke Rehna Re Baba from Pukar (1983) , Singers: Kishore Kumar, Asha Bhonsle and R. D. Burman
This dance number was sung by Kishore Kumar, Asha Bhonsle and Burman, and indeed popular too. Later a film starring Rekha coined its title from this song phrase. Song featured Amitabh Bachchan, Zeenat Aman, Tina Munim and Randhir Kapoor. Samandar Mein Nahake is yet another is yet another popular peppy numbered rendered in R. D. Burman's voice.
10. Tu Roota To Main Ro Dungi Sanam from Jawaani (1984) , Singers: Amit Kumar and Asha Bhosle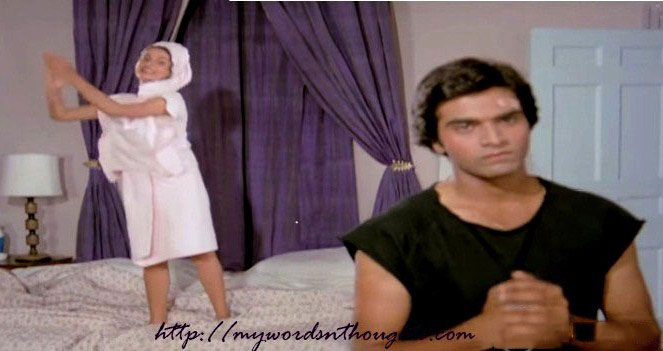 This chartbuster song featuring Neelam and Karan Shah was well received. Neelam appears in a bath towel in the beginning of the song, and looks extremely cute. It was Neelam's debut film. Though the movie was a flop, this particular song helped her a lot to receive more film offers later.
Please go through the gallery below, and click on the links to read a few interesting topics of this iconic composer. Here is the page link. You can also read a few posts below.