Gayathri Arun – Malayalam actress of 'Ennalum Entaliya' and 'Parasparam' fame
Gayathri Arun is a popular actress associated with Malayalam entertainment industry. She works in both TV shows and movies, and also hosted a few shows. Her character Deepthi IPS in Malayalam soap opera, Parasparam was well appreciated. Mostly playing supporting roles on big screen, she was seen in a prominent role in 2022 comedy family entertainer, 'Ennalum Entaliya'. She played Suraj Venjaramoodu's wife in the film. You can also read another biography of Gayathri Arun, written some time back.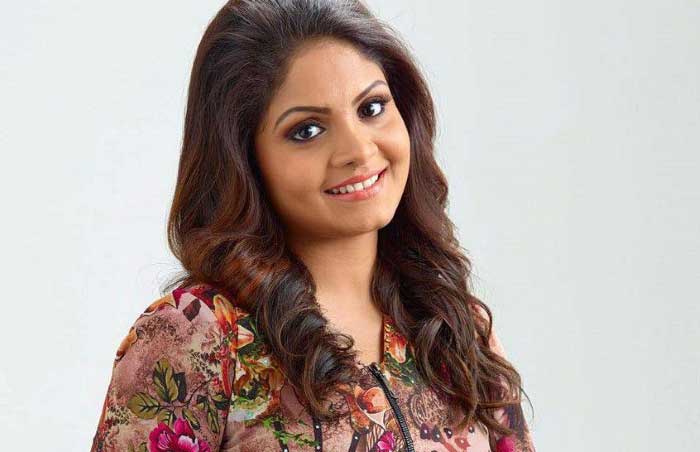 Gayathri Arun hails from Cherthala
Gayathri was born in Cherthala of Alappuzha district in 1987. Since young she has been involved with cultural activities, and she started receiving acting offers. But she or her parents were not interested in taking them up then. But after her marriage, her mother-in-law encouraged her to pursue acting and take up the role in Parasparam. She is married to Arun, a businessman and the couple has one daughter.
She started her career as a TV host of Kairali TV in 2013 through the show, Kalalayavarnangal, followed by Gandharvasangeetham. Same year she made acting debut through the soap, Indira, replacing Sujitha in titular role. She gained popularity through the show Parasparam, aired for 5 years since 2013. Her lead role as Deepthi Sooraj IPS made her a household name among TV audiences, and till now she is known through this role. Hers was not the regular grief stricken heroine, which made her a popular face on small screen.
She continued hosting the shows also, and the shows – The People's Choice and Laughing Villa became successful. She also made special appearance in many popular shows during several occasions.
Sarvopari Palakkaran marked Gayathri Arun's big screen debut
She made her big screen debut through Sarvopari Palakkaran in a supporting role, where she shared screen space with Anoop Menon, Aparna Balamurali and Anu Sithara. But the movie was a box office bomb. In 2019 she got her first lead role through Orma, and later played supporting roles in One, Thrissur Pooram etc. She played parallel lead role in 'Ennalum Entaliya' and gained recognition.
Gayathri Arun – Some interesting and less-known facts
1. Gayathri was chosen the best actress in Higher Secondary Youth Festival, and since then, acting roles came in.
2. She is also an author and has published one book, Achappam Kathakal in 2021. The book was launched by Mohanlal through his official Facebook page. The book includes 10 interesting stories about her father, apart from some childhood memories.
3. Her role as Deepthi IPS became so popular that while she was attending an inaugural function in the capital city, an elderly lady climbed up the stage with great difficulty just to meet her, and holding her hands she said, she wanted to meet the actress once before her death.
4. An MBA holder, she has also hosted many live events.
5. She rejected many films as they would clash with her serial Parasparam. She prefer to do meaty roles on big screen. Irrespective of the medium, she wants herself to be known as a performer.
(Visited 67 times, 3 visits today)