Different Types of Banana Available in Kerala
A few years back, my sister-in-law told, while she was doing her course in UP she used to take different types of banana while she returns back from home. She said, only robusta (banana with green coloured skin) is available in local markets. She also said, her north Indian friends also loved a lot, the different types of banana she used to carry every time. It was for the first time I understood many of our local banana varieties are not available in north India. What about we people, we Keralities can't even think a day of our life without linking ourselves to banana or plantain, isn't read? Read more to know the relationship.
Same was the case a few years back when one family from UP came to stay near my residence, and they loved a lot – delicious dosa, appam and definitely different types of banana available here. It was for the first time they saw different types of banana at fruit shops. So, I am sure, we Keralites are lucky enough to taste different varieties of this delicious and tasty fruit, which add only less calories to our body weight. This largest herb on earth's surface has more than 1000 varieties available across the world. What are the different types available in Kerala markets? I would like to take Malayalam words to describe the species. Most common and popular varieties are Palayamkodan, Jnali Poovan (Rasa Kadali) and Ethapazham (Nendra Pazham).
Ethapazham (Nendra Pazham)



Pazham means Fruit in Malayalam language. It's the lengthiest and biggest of all banana varieties available in Kerala. Though other varieties of banana contains less calories, and can be consumed without the fear of weight gain, Nendra Pazham is bit different. It's often consumed to gain weight. Raw banana powder is used as a baby food for infants and kids below 1 year old, and is a part of several traditional Kerala dishes such as Avial, Olan, Erisseri etc. Green banana of other varieties are also used to make these dishes.
Boiled banana (Pazham Puzhingiyath/ Pazham Vevichathu), Pazham pori (Vaazhakka Appam), Vaazhakka roast and Unnakai are traditional snacks made from this fruit. Raw banana (fully ripened) is used to make banana chips and Sharkara Upperi – integral snacks for traditional Kerala sadya. Both are placed as the first item on the left side of plantain dish for traditional sadyas of weddings, onam and other religious ceremonies. Banana chips may be round in shape or 4-cut pieces. Read to know its recipe.

In Thrissur, it's a common tradition during Onam season to gift Ethakula (banana as a bunch/banana stem) as whole. Though different varieties of banana are available in Kerala, only Nendra Kula is chosen, and it's a part of their tradition to hang a banana stem at kitchen or store when Onam celebrations began. So price of this banana touches year-high during days just before Thiruvonam. In Thrissur areas, boiled banana is also prepared as a side dish of traditional Onam sadya. Fully ripened banana fruit (only this variety) is cooked by boiling in water or using a steamer. Adding jaggery to the water can add extra sweetness. This banana fruit is also used to make sweet side dishes that form an integral part of Kerala culture.
Rasakadali (Jnali Poovan) – Lady Finger Banana
This variety of small banana serves as a side dish of traditional putt (steam cake), Upma, and also served along with Kerala sadya, which forms an excellent combo with jaggery payasam of any variety. It's the most common consumed banana type, along with Palayankodan, and can be used to make several 4'0 clocks like Nulliputt.
It is also associated with temple ceremonies. Thrikaivenna is a famous offering at Neyyattinkara Sri Krishna Temple, and the most favourite of Lord Krishna, where devotees offer ghee along with rasakadali is a piece of banana leaf. This variety is called rasakadali in south Kerala, while Jnali poovan in Thrissur and middle parts of Kerala.
Palayamkodan (Palayanthodan)
It's a sweet variety of banana, and the cheapest of all forms of banana. Similar to Jnali Poovan, Palayamkodan is also an excellent combo with jaggery payasam of any variety, and used to make snacks like nulliputt. It is also served along with traditional sadya of south Kerala, and forms a great combo to steam cake, upma etc. This yellow colour small banana type looks similar to rasakadali. It's also added to
Pongala payasam
as slices, just before putting the flame off. Read to know
the difference between Pradhaman and Payasam
,
where Palayankodan is served as a combo.
Kappa Pazham (Chenkadali)
This red colour banana is commonly available in southern regions and areas close to Tamil Nadu, occasionally appears in markets of middle Kerala. It's a big type of banana, loved by kids a lot. It's also known by the name – Chempoovan for its red colour. Read more about this fruit.
Matti Pazham
One of the most expensive varieties of banana, it is not commonly available in small markets. When thulabharam is done in Kerala temples, matti pazham is one of the common offerings. It's believed to a fruit variety offered to god. It's also served along with traditional Kerala sadya.
Poovan Pazham – Mysore Banana
Malayalis can never forget the famous short story, Poovan Pazhamwritten by Basheer. Not as slim as jnali poovan and paalayankodan, it's commonly available in fruit markets.
Monthan/Thadiyan Kaa (Baji Banana)
It's not commonly used as a fruit, but as a vegetable to make banana baji, and side dishes of rice like avial. It's used to make traditional
Olan
served with Kerala Sadya.
Morees – Robusta
This green variety banana is commonly available in Kerala markets. It's a north Indian type of banana as well.
Other varieties of banana
Many other varieties of banana are also available in Kerala markets. They may have varying local names like Annaan, Aattilchaadi etc. Aattilchaadi is one of the less-taste varieties of banana, with big seeds inside. Kannan, Koombilla Kannan, Kadali, Karinkadali, Thenkadali, Chempoovan, Malampoovan, Viroopakshi, Padathi, Eranadan, Chethi, Karpoora Valli, Chaarakannan, Nedunendran etc.
The single Malayalam song sung by Lata Mangeshkar
Nightingale of India – Lata Mangeshkar sang only one song for Malayalam cinema, and it's 'Kadali Chenkadali', of course a 'banana song' for the movie – Nellu. Music was composed by Bengali composer Salil Chowdhury.
Other Common 'Banana Talks'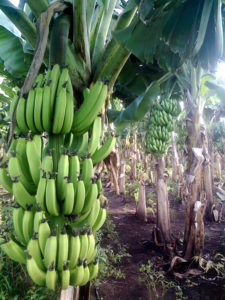 Banana is commonly called pazham, vaazha pazham, cheru pazham etc in Malayalam terms.

Its cultivation, offerings to temples, hanging inside store rooms of houses etc were common sights of Kerala about 30-40 years ago. Each and every part of a plantain plant was used by we Malayalis –either for food or religious rituals including banana stem and leaves. Banana stem is used to decorate wedding halls, reception areas and also to make panthal to conduct poojas like Irakki Pooja of Mudipuras of south Kerala and Ayyappa Vilakk of mid-Kerala.
The healthy side dish Thoran adding scrapped coconut was commonly made on Vaazhapindi (banana stem) and banana flowers. Now it's rare sight, and almost vanished from kitchen. Kids used banana stems as boats to play in small water streams during onam seasons. Many such 'banana thoughts' are really nostalgic to we, Malayalis of course.
Image source: Self, Pixabay and Wikipedia
Go through the gallery to read a few more unique articles on agriculture traditions, farming methods and customs of Keralites. Here is the page link. Click on the images to read.
(Visited 80,856 times, 1 visits today)