Dajaj-Bil-Zaitoon
Dajaj-Bil-Zaitoon is a Lebanese dish.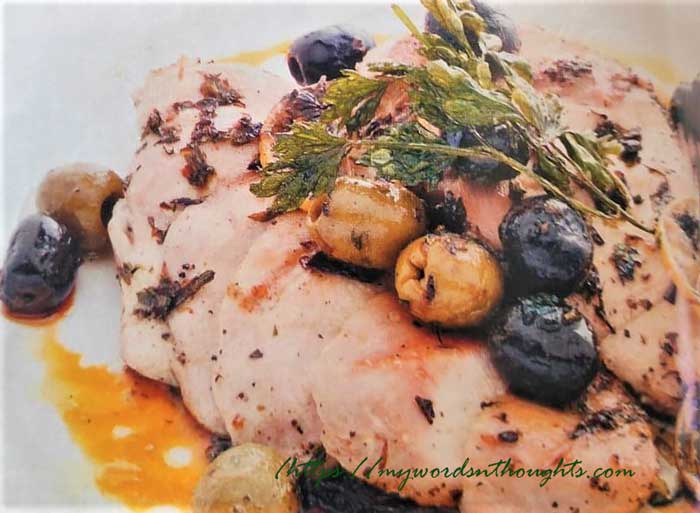 Ingredients for Dajaj-Bil-Zaitoon:
1. Onions – 2, cut into 8 pieces
Garlic – 2 cloves, chopped along with skin
Lemon – 1, sliced thin
White wine – 250 milli
2. Chicken – 8 pieces (portions including legs and chest, along with bones are best)
3. Olive oil – As required
4. Olives, after removing seeds -100 gm
5. Parsley -1 small bundle, chopped fine
How to prepare Dajaj-Bil-Zaitoon?
1. Pre-heat oven in 180 degree Celsius.
2. Place ingredients no: 1 in a big oven-proof dish.
3. Remove excess fat portions from chicken pieces and marinate using olive oil.
4. Place these chicken pieces on the top of onion and other ingredients in dish.
5. Sprinkle salt on top and bake it for 45 minutes.
6. Add olives and bake again for 10 minutes. Chicken should cook well and turn golden brown.
7. Take dish from oven and separate chicken pieces.
8. Boil the remaining water in normal flame.
9. When it thickens, add parsley leaves.
10. Put off the flame and add chicken pieces.
Courtesy: Vanitha Magazine September 1-14, 2010
Also read a few more chicken side dish recipes here. Click on the images in the gallery to read.
(Visited 36 times, 1 visits today)