Chemmeen Undaputt (Prawn Steamcake)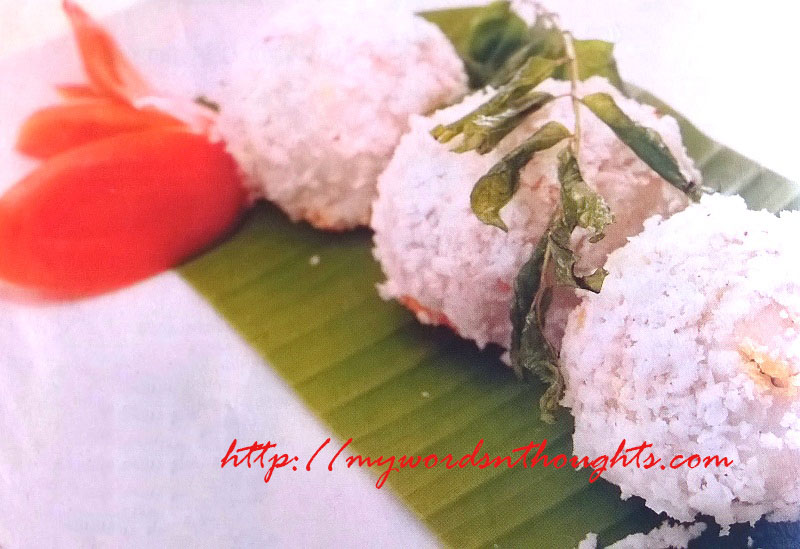 Ingredients for Chemmeen Undaputt (Prawn Steamcake):
For Prawn Filling:
1. Prawn – 200 gm
Salt – As required
2. Coconut oil – 2 big spoons
3. Onion – 1 big, chopped fine
Green chillies – 2, (split into two halves and remove seeds)
4. Turmeric powder – ¼ small spoon
5. Chilli powder – ½ small spoon
6. Tomato chopped fine – 1
7. Curry leaves – A stalk
For Steam Cake:
1. Rice flour – 300 gm
2. Salt and sugar – As required
3. Cumin seeds – A pinch
4. Hot water – For preparing puttu powder
5. Coconut scrapped – 100 gm
How to prepare Chemmeen Undaputt (Prawn Steamcake)?
1. Clean prawns and cook it adding sufficient salt and water.
2. Stir occasionally (approximate 6-8 minutes). If overcooked, prawns turn stiff.
3. Heat oil and sauté onions and green chillies.
4. Add turmeric powder and stir it.
5. Add red chilli powder and sauté in low flame till a pleasant aroma comes out.
6. Add tomato pieces and sauté again in low flame till they are smashed well and a thin layer of oil appears on its surface.
7. Add curry leaves and cooked prawns along with water to this gravy and stir well.
8. If water is not sufficient, add 1 or 2 big spoons of water.
9. Stir continuously for a few more minutes till gravy thickens and put off the flame.
10. To prepare steam cake, boil water adding salt and sugar.
11. Add rice flour and stir continuously without forming lumps.
12. Add cumin seeds and mix well to prepare rice paste.
13. Now make equal sized balls from them.
14. Spread each one using hands and place a little prawn filling inside it.
15. Roll in scrapped coconut and cook these balls in a steam cooker.
Courtesy: Vanitha Magazine 2010, May 1-14
You can read few more delicious steamcake recipes here. Here is the page link. Click on the images in the gallery to read.
(Visited 235 times, 1 visits today)