Brinjal Stuffed Fry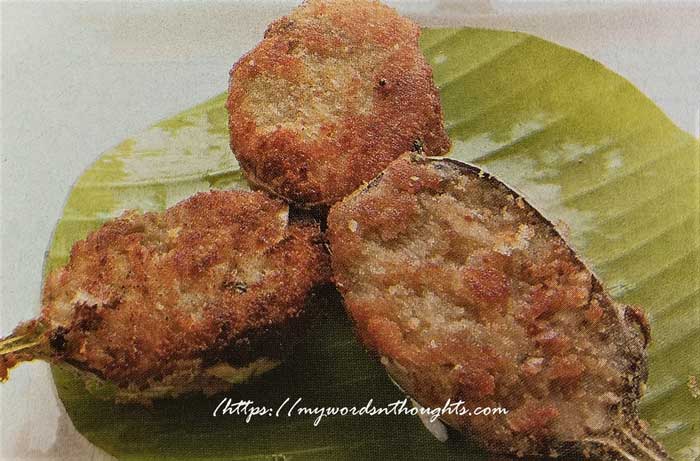 Ingredients for Brinjal Stuffed Fry:
1. Violet egg plant (Kathirikka) – ¼ kg
2. Onions chopped – ½ cup
Green chillies chopped round – 1 small spoon
Ginger chopped fine – 1 small spoon
Pepper – ½ small spoon
3. Egg – 1
Bread crumbs – 1 cup
Oil – 1 cup
How to prepare Brinjal Stuffed Fry?
1. Split brinjal into two, without removing stalk portion.
2. Steam it for a while in a steamer and cook it.
3. Remove the inner flesh portion of brinjal and keep them aside.
4. Heat oil and sauté ingredients no: 2 one after another.
5. Add pepper powder after sauting all the ingredients.
6. Add the inner portion of brinjal kept aside and sauté well.
7. Put the flame off.
8. Take the brinjal shells and use the above filling to fill it.
9. Dip that filled side in beaten egg and wrap in bread crumbs.
10. Deep fry the stuffed brinjals in hot oil. Fry both sides.
Courtesy: Vanitha Magazine May 1-14, 2005
Note: If you want non-vegetarian stuffed brinjals, instead of filling with brinjal flesh, you can use 1 cup of mint meat for stuffing.
Also read a few brinjal dishes. Click on the images in the gallery to read.
(Visited 6 times, 1 visits today)