Best of 25 Bollywood duets sung by Mohammed Rafi with different female playback singers
"If God had a voice, it's surely Rafi's" – If you are a fan of old Hindi classic hits, you will definitely agree with me. In terms of versatility and range, definitely he is the most talented singer Indian cinema has ever witnessed. For the past couple of weeks, I have been fully engaged with Rafi's classic songs, and have prepared separate lists for his best songs, duets, solos, duets with Lata Mangeshkar, Suman Kalyanpur, Asha Bhosle etc. From these lists, I extracted 25 of the best duets sung by Rafi aside these playback singers, why I feel the best and love most. Please note, each person has his own choice of songs, and may not match with someone else. I have also included a duet each of Geeta Dutt and Sharda in this list, to make it a most perfect one. I have sorted this list in alphabetic order to get a mix of different co-singers. Please visit Rafi Home Page.
1. Aaja Aaja from Teesri Manzil (1966) (Lyricist: Majrooh Sultanpuri, Music Composer: R. D. Burman)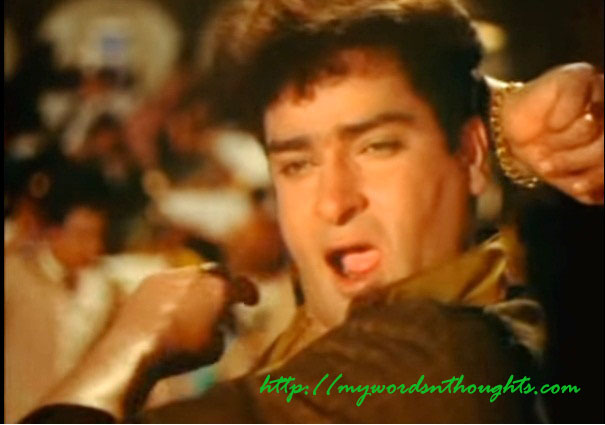 Let us begin the list with this dance chartbuster. The song got noticed for its rock fusion music as well as unique dance steps of Asha Parekh and Shammi Kapoor. R. D created high octave songs of the movie with a blend of rock, jazz, Latino and a twist of his own unique traits, which stood against the test of time. Two rock numbers with heavy western music instruments and dance steps choreographed by Herman Benjamin made them huge chartbusters of the year. In those days only a few composers attempted in westernizing Indian tunes. Though composers like R. D and Madan Mohan were blamed by music critics for westernizing Indian tunes, their tunes stood against time and are still popular. All the songs are still regarded as classic rock and a combination of western tunes, and have also inspired many music composers of future generations.
2. Aajkal Tere Mere from Brahmachari (1968) (Lyricist: Hasrat Jaipuri, Music Director: Shankar-Jaikishen)
Every music fan would love to see this dancing number in this list, and yes it is. Why not? Because it's the biggest chartbuster song of Suman Kalyanpur's career, and filmed on Shammi Kapoor and Mumtaz, the actress who was only a B-grade actress then. The song benefitted a lot in the careers of both Mumtaz and Suman. Many people assume it to be the voice of Lata Mangeshkar, but not it is. The movie included a total of 6 tracks of which 5 were Rafi solos and the rest one is the duet, Aajkal Tere Mere; quite interesting. The tune was initially rejected, which was later approved by Shammi Kapoor, and it became the USP of the entire album.
3. Abhi Na Jao Chodkar from Hum Dono (1961) (Lyricist: Sahir Ludianvi, Music Composer: Jaidev)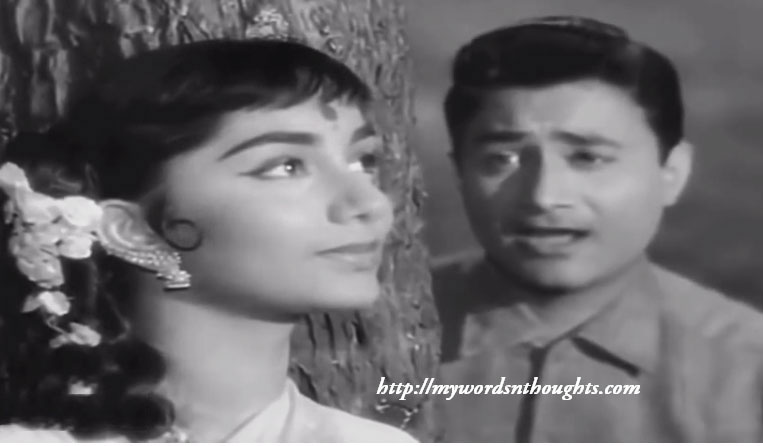 This Rafi-Asha Bhosle duet is loved by youngsters of all generations since early 1960s, and that's the beauty of this lovely composition. The song was reused in Shahid Kapoor's 2011 movie, Mausam, and it was recorded in Shreya Ghoshal's voice. Dev Anand played a dual role in Hum Dono, and Sadhana is featured aside Dev in this song. In the song sequence, Dev Anand tries to stop his lover and requests her to spend a little more time with him.
4. Bahut Sukriya from Ek Musafir Ek Hasina (1962) (Lyricist: S. H. Bihari, Music Composer: O. P. Nayyar)
This duet belongs to Mohammed Rafi and Asha Bhosle. This evergreen romantic song was pictured on Joy Mukherjee and Sadhna Shivdasani, and the movie also included 4 duets of same pair including Aap Yun Hi Agar Humse Milte Rahe, Main Pyar Ka Rahi Hoon and Tumhein Mohabbat Hai hHumse Mana. Shamsul Huda Bihari penned two of its songs – Bahut Shukriya and Mujhe Dekhkar Aapka Muskurana, popular solo track of Rafi. Out of the 10 musical tracks, Rafi's voice was used by Nayyar for 8.
5. Chup Gaye Saare Nazaare from Do Raaste (1969) (Lyricist: Anand Bakshi, Music Director: Laxmikant-Pyarelal)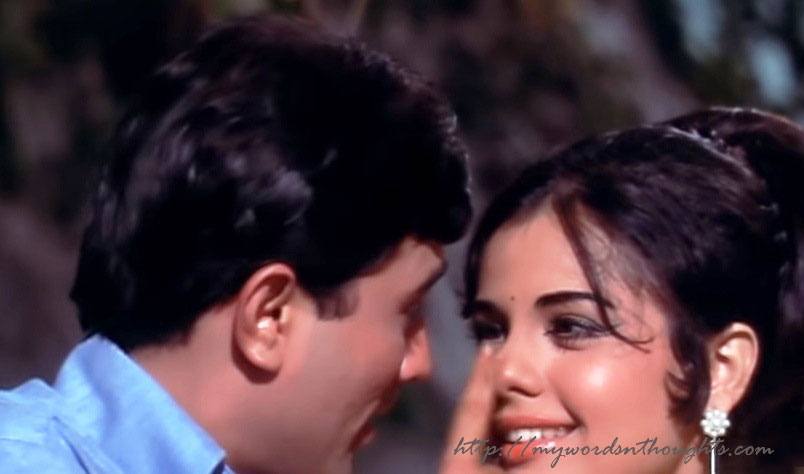 Till Do Raaste got released, Mumtaz was known to be a B-grade actress or she received only second lead/supporting roles in main stream movies. When the movie was filmed, Rajesh Khanna was only a new actor to Bollywood with no hits to his credit. Do Raaste got released a few days after Aradhana's release, and fantasy and hysteria created by Rajesh Khanna in Aradhana prompted audiences to buy movie tickets for Do Raaste, and the movie became a blockbuster. They also worked together in 'Bandhan' the same year. Though Mumtaz was mostly featured in some of its hit songs and only a few film scenes with dialogues, the huge success of Do Raaste made her an overnight star, and her pairing with Rajesh Khanna proved lucky to film producers later. Though Rajesh Khanna worked with many heroines later, his pairing with Mumtaz became the most popular one. The duo shared amazing chemistry throughout the song sequences of Chup Gaye Saare Nazaare and it's the only duet of entire album.
6. Chura Liya Hai from Yaadon Ke Barat (1973) (Lyricist: Majrooh Sultanpuri, Music Composer: R. D. Burman)
This tune was originally inspired from English song, If It's Tuesday, This Must Be Belgium from the soundtrack of the 1969 film of the same name. But Burman made his tune his own, by adding his own distinct elements. No doubt, it's one of the most popular and wonderful duets ever sung by Rafi and Asha, filmed on Zeenat Aman and Vijay Arora. The man known for using unheard and weird 'music instruments' for his song recordings to create some rare music tinkled a spoon against the glass to give a unique touch to the song in the beginning, and it was an instant hit.
7. Deewana Hua Badal from Kashmir Ki Kali (1964) (Lyricist: S. H. Bihari, Music Composer: O. P. Nayyar)
O. P. Nayyar used voices of Mohd Rafi and Asha Bhosle to record all the songs of its lead pair – Shammi Kapoor and Sharmila Tagore. The whole romantic sequences were filmed in Kashmir, which adds to the beauty to the song. The movie also included Rafi's popular duets with Asha – Ishare and Meri Jaan Balle Balle, apart from a few hit Rafi solos like Yeh Chand Sa Roshan Chehra, Subanallah, Yeh Duniya Useke and Kise Na Kise Se.
8. Dil Pukare from Jewel Thief (1967) (Lyricist: Majrooh Sultanpuri, Music Director: S. D. Burman)
This popular duet filmed of Rafi and Lata Mangeshkar was filmed on Dev Anand and Vyjayanthimala. It's the single Rafi track of the entire album, but the sweetest romantic one too. S. D. Burman used the voices of both Kishore Kumar and Mohammed Rafi to record the songs of Dev Anand, right from 1950s, and hence Dev Anand was one among the rare successful actors then, whose voice was not permanently linked with a particular singer, since his screen debut.
9. Yuhi Tum Mujhse Baat Karte Ho from Saccha Jhoota (1970) (Lyricist: Indeevar, Music Director: Kalyanji Anandji)
One of the rarest songs sung by Rafi for Rajesh Khanna post Aradhana success, Lata Mangeshkar's voice was frequently used for Mumtaz then. The actors are seen in an intoxicate state, fully out of mind because of a mistakenly taken drug, where they forget everything and express love for each other. Indeevar penned the lyrics who frequently worked the music duo.
10. Gunguna Rahi Hai from Aradhana (1969) (Lyricist: Anand Bakshi, Music Composer: S. D. Burman)
Rafi recorded two duets for the movie, while the rest songs were sung by Kishore Kumar. S. D. Burman originally wanted Rafi to sing two solos. But when he got ill in the middle of the project, the work was completed by his son R. D. Burman who gave 'Mere Sapnon Ki Rani' and 'Roop Tera Mastana' to Kishore Kumar, which made him a singing sensation overnight. The fame of two duets sung by Rafi – Gunguna Rahi Hai with Asha Bhosle (filmed on Rajesh Khanna and Sharmila Tagore) and Baagon Mein Bahar Hai with Lata Mangeshkar got overridden by Kishore Kumar hysteria.
11. Hum Aapke Aankhon Mein from Pyaasa (1957) (Lyricist: Sahir Ludhianvi, Music Composer: S. D. Burman)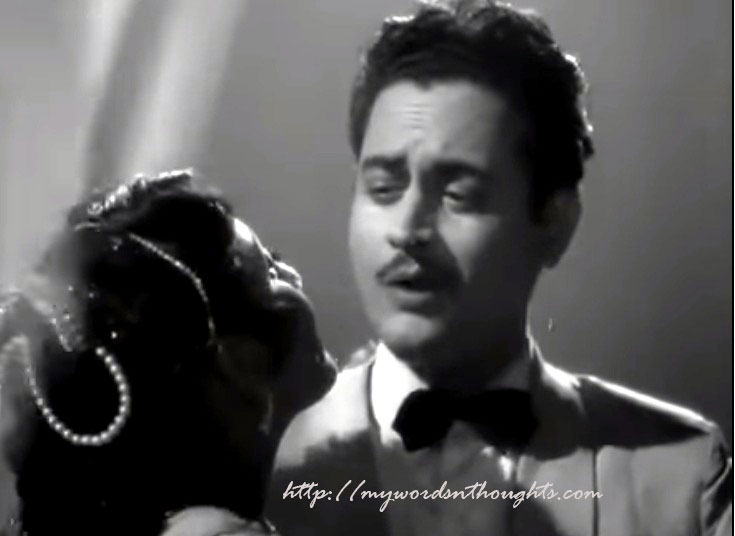 Geeta Dutt recorded some of her finest duets with Rafi in the 1950s, and all the songs of the movie composed by S. D. Burman were immensely popular. This song was filmed on Guru Dutt and Mala Sinha as a dream sequence. Two singers finish their lines, each ending with a question 'How'.
12. Jaane Chaman Shola Badan from Gumnaam (1965) (Lyricist: Hasrat Jaipuri, Music Director: Shankar-Jaikishen)
The list is incomplete without mentioning popular co-singers of Rafi. Sharda Rajan Iyengar, shortly called Sharda is best known for her association with Shankar Jaikishen. This romantic track filmed on Manoj Kumar and Nanda is a rain song. All the songs of the movie along with suspense thriller plot were well received then.
13. Main Chali Main Chali from Professor (1962) (Lyricist: Shailendra, Music Director: Shankar-Jaikishen)
The song was filmed on Shammi Kapoor and Kalpana, who marked her screen debut with Professor. Please don't get confused with 'Padosan' song – 'Main Chali Main Chali' which was also sung by Lata. The movie included Lata-Rafi duet, Awaaz Deke Hamein Tum and two chartbuster solos of Rafi – Aye Gulbadan and Khuli Palak Mein Jhoota Gussa, both filmed on the lead pair, but not as duets.
14. Mujhe Kitna Pyar Hai Tumse from Dil Tera Diwana (1962) (Lyricist: Shailendra, Music Director: Shankar-Jaikishen)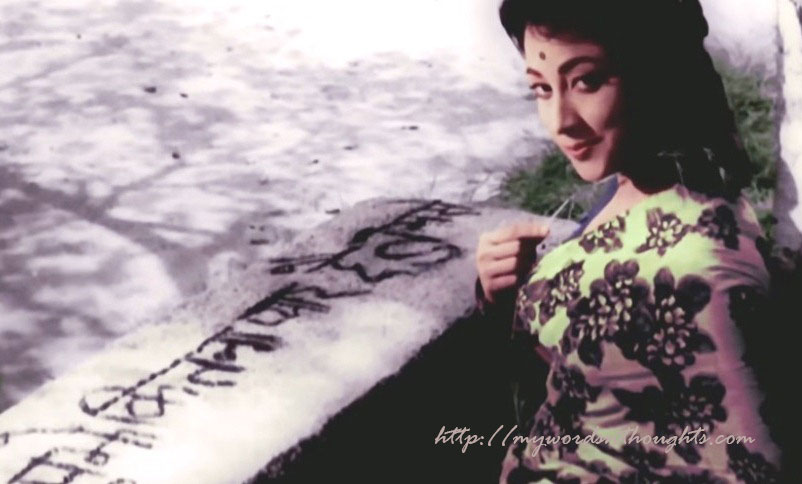 Dil Tera Diwana is best remembered for some of the finest tunes of SJ along with some hilarious comic scenes of Mehmood. The movie has a total of 7 tracks, of which four are duets of Rafi and Lata. The title track as well as Mujhe Kitna Pyar Hai Tumse became instant chartbusters. Both were filmed on Shammi Kapoor and Mala Sinha. Masoom Chehra Ye Qatil Adayen and Jane Wafa Jane Jahan are the rest two. The movie also included extremely popular solo track of Rafi – Nazar Bachakar Chale Gaye Woh.
15. Ni Sultana Re from Pyar Ka Mausam (1969) (Lyricist: Majrooh Sultanpuri, Music Director: R. D. Burman)
The song was lovely filmed on Shashi Kapoor and Asha Parekh in a lovely location, and it resembles very much with director Nassir Hussain's previous outing with Asha Parekh, Dil Dekho Dekho in a song sequence along with a chain of incidents. The musical instrument Duggi was played by the iconic Bollywood musician Homi Mullan. The combo of Rafi and Lata took the song to another level, through their distinct rendition, by bringing high variations in pitches from low note to high and in reverse order. I still remember, when I heard this song for the first time in my early teens, a strange thing happened. When the singers reach low note, I felt that song has ended and it repeated several times, which I have never experienced before. I felt I got fooled (just joking). I think, it's the first duet of Lata and Rafi recorded by Burman.
16. O Haseena from Teesri Manzil (1966) (Lyricist: Majrooh Sultanpuri, Music Composer: R. D. Burman)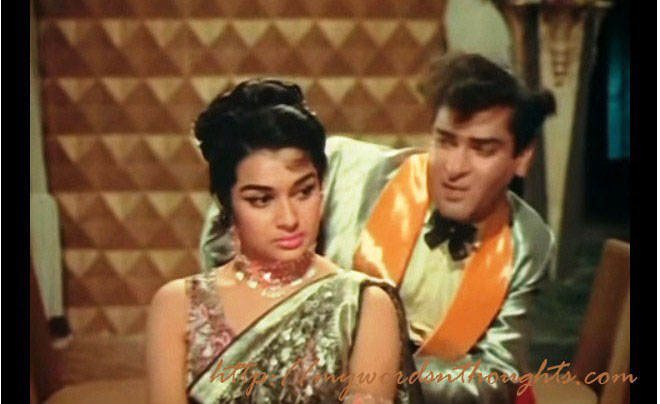 It's one of the top items ever pictured on Helen with the magical music of Pancham da, and Shammi Kapoor is also seen dancing along with her. The song proved to be a major turning point of Helen's career, who danced to numerous hit tunes of Burman in the 1970s, mostly in Asha's voice. Herman Benjamin choreographed the dance steps. Teesri Manzil was one of the early works of R. D. Burman and Asha Bhosle together. No one might have predicted then, the couple is to rule the Bollywood music scene for the next two decade, and that they would get married. The movie had a total of 6 tracks, of which two were Rafi solos and rest were Rafi-Asha duets.
17. O Mere Sona Re from Teesri Manzil (1966) (Lyricist: Majrooh Sultanpuri, Music Composer: R. D. Burman)
After O. P. Nayyar, Rahul Dev Burman became the second mainstream composer to exclusively reserve Asha Bhosle's voice for Asha Parekh. All the songs turned out to be huge chartbusters too. In this fun-filled song, we can see Asha Parekh trying to pacify Shammi Kapoor, and romance blossoms very soon. A few years later Shankar-Jaikishen tried to re-create the same magic through 'Mein Rootongi Tumse' song of Jawan Mohabbat. Though the song got noticed, it couldn't replicate 'Teesri Manzil'' magic.
18. Raat Ke Hamsafar from An Evening In Paris (1967) (Lyricist: Shailendra Singh, Music Composer: Shankar Jaikishen)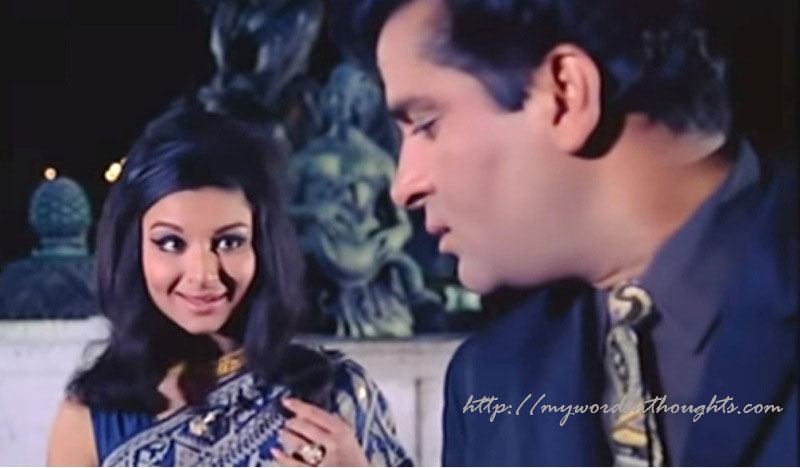 SJ mostly used Lata, Sharda or Suman Kalyanpur's voices to record duets with Rafi during their peak years of 1950s and 1960s. When Asha Bhosle rose to prominence in the early 1970s in association with Kishore Kumar, Jaikishen had already passed away, bringing a virtual end to the era of celebrated music pair. This romantic track featuring Shammi Kapoor and Sharmila Tagore and sung by Rafi and Asha was shot in some of the best locations of Paris.
19. Kya Hua Tera Wada from Hum Kise Se Kum Nahi (1977) (Lyricist: Majrooh Sultanpuri, Music Director: R. D. Burman)
One of the top songs of Rafi in the 1970s, it's the only song which earned him a National award. Rafi received his 6th and final Filmfare award for its rendition, and Sushma Shrestha too received a nomination for the same. Sushma sang only a few lines for this song. But as she was nominated at Filmfare, I listed this song as a duet. It was Rafi's single Filmfare award in 1970s too, marking his strong comeback in the era dominated by Kishore songs. But unfortunately he passed away in 1980 at the age of only 55. The song was lip synced by Tariq Khan who appeared as a stage performer for this song and Rishi Kapoor and Kaajal Kiran are also seen in the song.
R. D. Burman predominantly used Rafi's voice to record Tariq Khan's songs which include 'Chand Meri Jaan', and Kishore Kumar's voice for Rishi Kapoor (except the qawwali, Hai Agar Dushman). Kishore Kumar's Aa Dil Kya Mehfil Hai Tere is an extension of Chand Meri Jaan filmed on Rishi Kapoor, followed by R. D. Burman's Tum Kya Jano performed by Tariq Khan, followed by Asha Bhosle's rendition of 'Mil Gaya' for Kaajal Kiran – a chain of songs in a stage performance of the trio (but not a duet), an experiment by the composer.
20. Teri Bindiya Re from Abhimaan (1973) (Lyricist: Majrooh Sultanpuri, Music Director: S. D. Burman)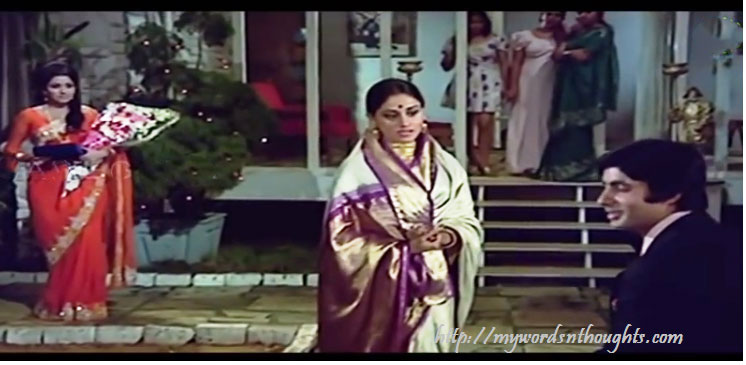 When the movie got released, Amitabh Bachchan and Jaya Bachchan were newly wedded couple. Strange co-incidence, the situation of this particular song is exactly the same, when the pair sings for wedding reception before close friends. Amitabh Bachchan played the role of a singer, and S. D. Burman experimented with the voices of Manhar Udas, Kishore Kumar and Rafi for him, while he exclusively reserved Lata's voice for all the songs of Jaya Bhaduri, who was also featured as a singer.
21. Tujhe Pyar Karte Hain from April Fool (1964) (Lyricist: Hasrat Jaipuri, Music Director: Shankar-Jaikishen)
The popular duet was filmed on Biswajeet and Saira Banu, and the Jodi looks cute on screen. The movie also included yet another popular duet of the duo, Kehdo Kehdo Jahan Se Kehdo and a Rafi solo, Aa gale Lag Jaa, for which Saira dons a swim suit for the first time. The female voice is Suman Kalyanpur. Surprised?
22. Woh Hai Zara Hafa from Shagird (1967) (Lyricist: Majrooh Sultanpuri, Music Director: Laxmikant Pyarelal)
The movie is still loved for its comic plot, as well as some of wonderful songs in Rafi and Lata's voice. This duet filmed on Joy Mukherjee, Saira Banu and I. S. Johar is so lovely to watch with some funny movements, and Saira Banu looks extremely beautiful and cute, teasing Joy Mukherjee. It's one of the best duets of Lata Mangeshkar and Rafi.
23. Ye Mera Prem Patra Padhkar from Sangam (1964) (Lyricist: Hasrat Jaipuri, Music Director: Shankar Jaikishan)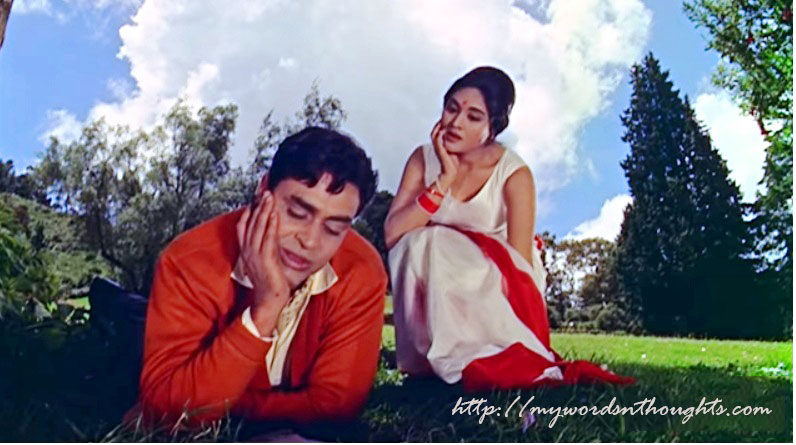 For evergreen romantic song of 1960s, Lata sings only a couple of final lines (only its Mukda), and very often this song is considered to be Rafi solo. So I am not sure if this song can be listed as a duet. The song featuring evergreen romantic couple Rajendra Kumar and Vyjayanthimala is still popular, especially for its magical lyrics. The movie too was the biggest blockbuster of the year, which owns the credit of being the first Bollywood film with two intervals. In the 1960s, Rafi was the ghost voice of Kumar, who played a magnificent role in establishing him as 'Jubilee Kumar'. Songs of Dil Ek Mandir, Arzoo and Mere Mehboob are a few more instances, interesting all of them were composed by Shankar Jaikishan.
24. Yeh Parbaton Ke from Vaasna (1968) (Lyricist: Sahir Ludhianvi, Music Director: Chitragupt)
Actress in this song is Kumud Chhugani, whose career failed to kicked off, though she received a few promising roles in the early phase of her career. She is seen romancing the chocolate hero Biswajit, and they definitely make a lovely pair on screen together. Lata Mangeshkar is the female voice.
25. Zameen Se Hamein Aasmaan Par from Adalat (1958) (Lyricist: Rajinder Krishan, Music Composer: Madan Mohan)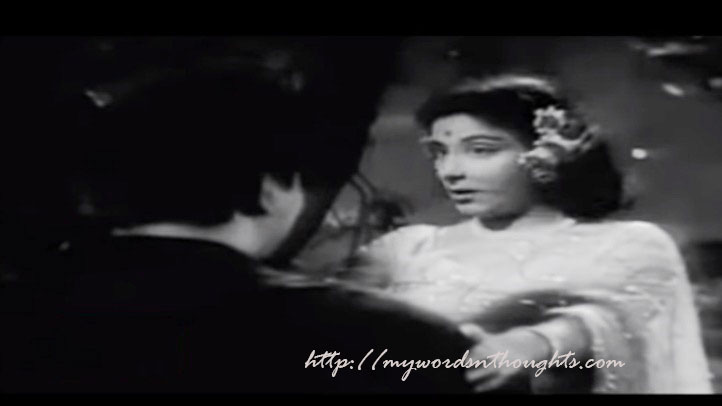 Madan Mohan is best known for reserving his career best songs for Lata Mangeshkar, just as the case of Nayyar for Asha. Read more: But there have been rare instances when he used Asha Bhosle's voice to record a few songs, and in the case of romantic duets, it's very rare. For the movie Adalat, Madan Mohan used Asha bhosle's voice to record both the duets with Rafi – Jab Din Haseen Dil Ho Jawaan and Zameen Se Hamein Aasmaan. This particular romantic song was filmed on Pradeep Kumar and Nargis.
End note: Kya Hua Tera Wada, Tum Jo Mil Gaye Ho and Yeh Mera Prem Patra are among the Rafi tracks which I am a bit confused. Are they real duets? All these three songs have Rafi as the main singer, but female voices for a very few lines as back support. I added Yeh Mera Prem Patra and Kya Hua Tera Wada in this list, as I considered both as duets. As I was confused with one of the top favourite Rafi track, Tum Jo Mil Gaye Ho, I included the song in the list of both Rafi solo as well as Rafi-Lata Duets, though the song is not featured here. I would prefer to keep this song as Rafi solo. But when we talk about Rafi-Lata romantic songs, we can't exclude that one too. That's why I included the song in Rafi-Lata duet list.
A few more popular duets sung by Rafi with other female singers
1. Din Saara Gusara from Junglee
2. Sau Saal Pehle from Jab Pyar Kise Se Hota Hai
3. Tere Ghar Ke Samne from Tere Ghar Ke Samne
4. Ude Jab Jab Zulfe from Naya Daur
5. Baagon Mein Bahar from Aradhana
6. Isharon Isharon from Kashmir Ki Kali
7. Uthar Tum Haseen Ho from Mr and Mrs. 55
8. Aap Yuhi Agar from Ek Musafir Ek Hasina
9. Bekhudi Mein Sanam from Haseena Maan Jaayegi
10. Thehriye Hosh Mein Aa Loon from Mohabbat Isko Kahete Hain
11. Rim Jhim Ke Geet from Anjaana
12. Saathiya Nahi Jana from Aya Sawan Jhoom Ke
13. Ne Soniye of The Train
14. Tum To Pyar Ho from Sehra
15. Tumhari Nazar from Do Kaliyan
16. Muskurati Hui Ek Husn Ki Tasveer from Daman Aur Aag
The collection of songs is countless. Please note, I excluded many of these chartbuster hits only to add more female singers as well as movies to the list. I preferred to choose one song from a movie, in most cases (exceptions are there). Also, it's not possible to make a perfect list of best Rafi duets, I know. You can check here to get a separate list of Rafi duets with Lata Mangeshkar and Asha Bhosle.
Also go through the gallery to read a few more articles about Rafi. The gallery lists Rafi's finest works with other artists in the golden era. Here is the page link. Click on the images to read.
(Visited 1,341 times, 1 visits today)