Meat Fry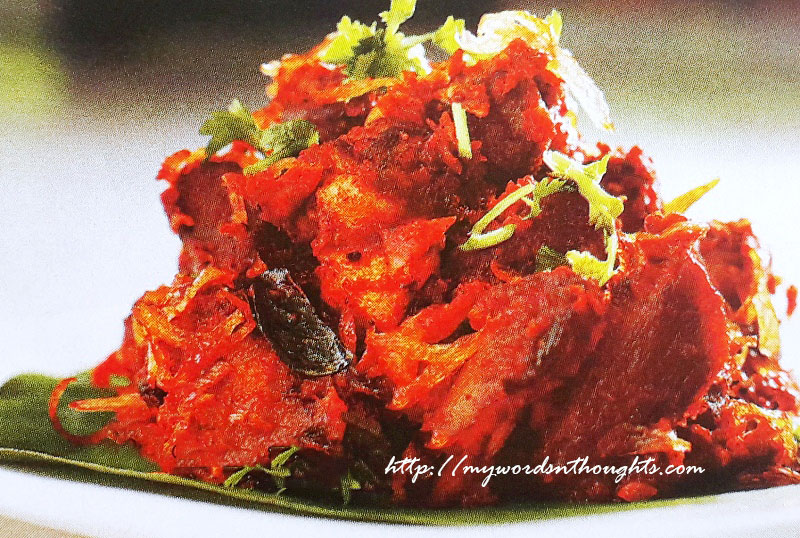 Ingredients for Meat Fry:
1. Meat of your choice – ½ kg
2. Ginger chopped fine – 1.5 small spoons
Garlic chopped fine – 1.5 small spoons
Shallots chopped – ¾ cup
Kashmiri chilli powder – ¾-1 big spoon
Coriander powder – 1 big spoon
Turmeric powder – ½ small spoon
Salt – For taste
3. Tomato – 1, medium sized, chopped
Water – ½ cup
4. Coconut oil – ¼ cup
5. Onions chopped – 1 cup
Curry leaves – 3 or 4 stems
6. Pepper powder – ½ small spoon
7. Garam masala powder – ½ small spoon
How to prepare Beef Fry?
1. Clean meat and cut into small square pieces.
2. Marinate meat using ingredients no: 2 and allow it to rest for 10 minutes.
3. Add chopped tomato and water to marinated meat and cook it in low flame with lid closed. (You can also use pressure cooker for this purpose.)
4. When meat is well-cooked, open the lid and cook in low flame till water content is fully evaporated.
5. Heat coconut oil in a pan and deep fry onions and curry leaves till they turn golden brown.
6. In the remaining oil, add meat and pepper powder and mix well.
7. Add excess salt if required.
8. Cook for 10-15 minutes in medium flame and stir occasionally.
9. When meat fry turns dry add garam masala powder, fried onions and curry leaves and mix well.
10. Take off from flame and serve hot.
Courtesy: Vanitha Magazine July 15-31, 2015
A few more beef recipes. Here is the page link. Click on the images in the gallery to read.
(Visited 192 times, 1 visits today)