A few herbal homemade bath products for you
Now everything available in market can be customized – from costumes to curtains and blankets. This customization trend has now reached Indian bathroom as well. Soap, shampoo, fruit scrub etc can be customized now, adding your favourite perfumes and ingredients. If you have a little time to spend, you can make your bathroom luxurious with customized products, available nowhere else. Here are a few suggestions of such herbal homemade bath products. Hope you will like it.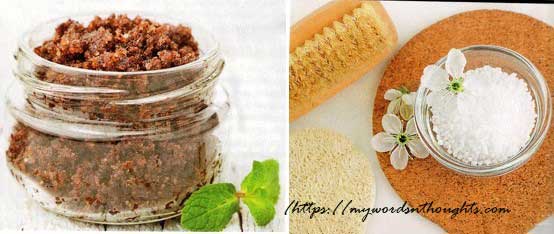 Homemade Shampoo
To herbal shampoo base, you can add your favourite aroma, vitamin-E oil, basil leaf juice, curry leaf juice or hibiscus juice. They can have good foam too. Ingredients can also be added which keep your shampoo fresh for a long time without damage.
How to make herbal shampoo?
Collect curry leaves, basil leaves and hibiscus flowers and boil it in half litre water. Keep boiling till water reduces to half quantity. Allow it to cool completely and strain it. This quarter litre water can be strained one day after too. Add half litre herbal shampoo base (it's available online). Liquid shampoo base is also available, with sulphate and paraben content free. You can also purchase shampoo base with or without perfume. Slowly add herbal shampoo base to the strained water to avoid extra foaming. Add a little Vitamin E oil along with essential oil or any essence with perfume too. You can store this shampoo in glass containers or plastic containers with good quality.
A herbal shampoo exclusively made using seeds and leaves
Ingredients required – Petals of hibiscus flowers (from 3 flowers), 8 tender leaves of guava, 8 big spoons of soap nut or reetha powder and 4 big spoons of Shikakai Powder.
Boil all these ingredients together in 300 milli water in high flame, and reduce it to half to prepare the herbal shampoo. Allow the shampoo to cool completely and store in bottles. You can store this herbal shampoo under room temperature up to 2 weeks.
Herbal Foot scrub
Mix 1 cup sea salt and ¼ cup coconut oil together and keep it in bathroom in a small mason jar. You can add essence oil of your choice while using. Soak feet in water for 5 minutes and massage your feet using this foot scrub. It avoids cracks and dryness of feet. You can store this foot scrub for a long time. You can substitute salt with sugar, coffee powder or baking soda.
Homemade luxury soap
Soap kit is readily available in market. Caustic soda and talcum powder are available in exact measurements in such kits. You can add pure coconut oil, aloe vera, basil leaves, hibiscus, curry leaves juice, Mexican Mint, turmeric, vitamin E oil etc. Essential oil can be added to get perfume.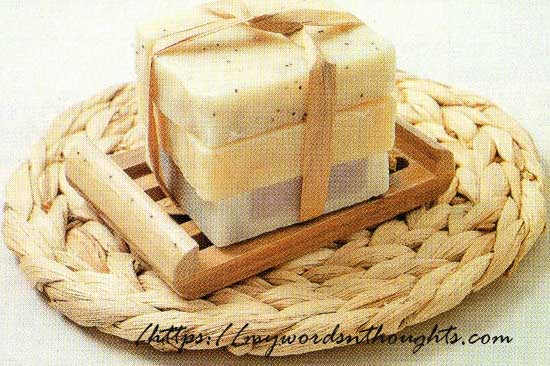 How to make Homemade luxury soap?
Cut aloe vera stem and place it in slanting position for half an hour to remove stain. Take pulp from 2 stems and prepare juice using a mixer. Boil 3-4 hibiscus petals in 400 milli water and squeeze it. Add aloe vera juice to this extract along with 170 gm caustic soda. Due to chemical reaction, this solution easily heats up. Allow this solution to rest for 6 hours. Use only steel containers to prepare soap.
Take 1200 milli litre coconut oil in another container. Add 200 gm talcum powder from soap kit and mix well. Keep stirring in same direction for 15-20 minutes continuously. Add the caustic soda mixture to it and stir for 15 more minutes. Grease a mould using oil, and pour the soap solution into it. Next day the soaps will be set and you can remove them from mould. Start using them only after 15 days.
Homemade soap – Preparation 2
Another strategy is to buy soap base and add other ingredients of your choice suiting your skin most. Soap base is available online in reasonable price, both in liquid form and solid bar form. If you are using soap bars, cut them into small pieces and melt them using double boiling method. That means, boil water in one vessel and place another vessel inside it, and you can put bars inside. While doing this, you can add fruit juices, essences, ayurvedic ingredients and perfumes of your choice. If you want to add basil leaves, hibiscus petals, Mexican Mint etc, gently fry in oil and add that oil to soap. If you use them with water, soap may get damaged easily.
Herbal Face wash gel
Melt baby soap adding some warm water. Using double boiling method, by placing this vessel inside boiling water, fully melt it. Add a little honey, rose water and essential oil, and store in containers. It can be used as an excellent moisturizing face wash. You can try different essential oils to bring different aromas to your face wash gel.
Homemade bath salt
When you return home from office, how will it feel like, to bath in lukewarm water? Water flushes out body pain, stress and office tensions. If you add a little bath salt to water, it refreshes your body and provides a stress-free sleep too. You can easily prepare bath salt at home.
Take 5 big spoons of powdered salt in a moisture-free bowl. You can also use epsom salt. Dry some rose petals under direct sun, make a fine powder and add 2 big spoons to it. Add a few drops of essence oil. You can choose any perfume you want. Mix all the ingredients together and store in glass jars.
Take a little bath salt and wrap in tea bag. Put it in bath tub or lukewarm water in a bucket. Also fill a little milk powder in the tea bag. It gives you a refreshing bath, and a sweet aroma to your body.
Herbal Face wash powder
Take 2 big spoons of gram flour, 2 big spoons of sandalwood powder, 1 big spoon coffee powder, 1 big spoon Kasturi turmeric powder and 1 big spoon of multani mitti. Mix all the ingredients together and store in air-tight containers. When you want, take a little powder, mix it with a little water and massage your face. Wash it off soon. Though this face wash powder doesn't form foams, it cleans the face and gives a refreshing fragrance too. This herbal face powder also retains ph balance of skin.
Homemade Body Scrub
Blend oats and coffee using a mixer, and add a few drops of perfumed essence oil. Mix well and store in glass bottles. While using, add a little coconut oil or olive oil to this scrub and massage in circular motions for 10 minutes. You can do it twice or thrice a week to keep your skin beautiful and soft. It also retains youthfulness of skin. You can store this herbal body scrub for months, if you keep it away from moisture touch.
Homemade bath powder
Ingredients required for homemade bath powder are 1 big spoon of green gram, ½ spoon Kasturi turmeric, 1 big spoon masoor dal, ½ big spoon gram flour, ½ big spoon of dried lemon/orange skin, 1 big spoon of dried rose petal powder, ½ big spoon of Licorice (Iratti Madhuram), ½ big spoon of rice flour and ½ big spoon of curry leaves dried.
Make a fine powder of all these ingredients together and store in dry & air-tight containers. You can store it up to 3 months. You can use it as a face wash or body wash. Take a little quantity and add sufficient water. Make it a paste and use. This bath powder can remove skin wrinkles, marks due to mosquito bites, excess hair, sun tans, bad odour due to sweating etc. If you want to add aroma to this homemade bath powder, add a little Ramacham (Vettiver) powder.
(Visited 37 times, 1 visits today)