The reason behind reading Ramayana at homes during Ramayana Month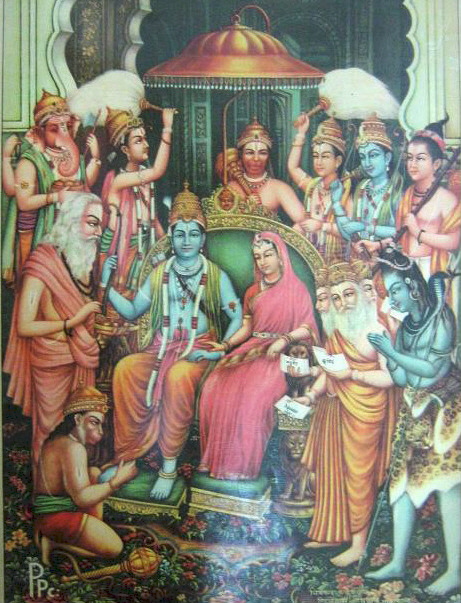 "Sree rama rama, sree ramachandra jaya
Sree rama rama, sree ramabhadra jaya
Sree rama rama rama Lokabhirama jaya
Sree rama rama rama Ravananthaka jaya
Sree rama rama Hridi ramatham rama rama"
Obvious if you visit Kerala temples in the holy month of Karkidakam, you get the spectacular visuals of reading Adhyathmaramayanam of Thunchath Ramanujan Ezhuthachan, particularly in the early mornings. The same procedure is followed in Hindu homes in the mornings/evenings also during the month, where the whole family also gathers to listen reading Ramayana. Very often in residential associations, people gather as a group and go to each and every home to recite Ramayana during Karkidakam month. When a traditional lamp is lighted and people sit around creating a peaceful and devotional atmosphere, it's nothing short of a temple gathering which emits a positive energy.
Why Ramayana is recited in Hindu temples and homes during the gloomy month of Karkidakam?
Have you ever thought that? It's a month of bad omens when no good celebrations, rituals or marriages are conducted. Heavy rainfall implies no good signs for active work or anything else. In old days, when poor people lived in thatched homes, heavy rainfall leaves everything soaked, and people used to place small vessels and pots to collect leaking water. Those old memories of Karkidakam have gone! Yet traditions and beliefs associated with it have not faded. Monsoon and those dark clouds definitely bring some nostalgic moments back.
The month is marked by dark clouds, heavy rainfall, gloomy atmosphere and loss of crops also. The days are believed to be the difficult days of the year, both physically and financially. As a part of Hindu tradition, people read Athyadhma Ramayana at homes and temples to overcome the difficult days of Karkidakam. In old days of heavy rainfall people used to pray to god to protect from nature's fury of diseases and loss of crops. Marked as a month for reading as per tradition, people recite religious books, particularly Athyadhma Ramayanam written in 'Kilippaattu' style.
It's also believed that Saint Valmiki completed epic Ramayana during this month. The fifth kandam – Sundara Kandam of Ramayana which tells the story of Hanuman is usually recited during this period. Thus Hanuman too forms an important figure of Ramayana Month. As per Hindu mythology reading Ramayana gives easy path to moksha, and that's also one reason why people prefer to read Ramayana.
An empty seat for Hanuman while reading Ramayana
Old people follow the tradition to keep a seat empty while reading Ramayana at temples, gatherings or at home during Ramayana month. This seat is specially reserved for Hanuman backing the popular belief that wherever Ramayana is recited, Hanuman will be present.
Image source: Wikipedia
Go through the gallery to read a few more unique articles on traditions followed during holy Karkidakam month by Keralites. Here is the page link. Click on the images to read.