Meena Kapoor – Bollywood playback singer of yesterdays and voice behind "Aana Meri Jaan Sunday Ke Sunday"
Meena Kapoor (1930 – 2017) was a successful and well-known playback singer associated with Bollywood in the black & white era of 1940s and 1950s. She is best recognized for the popular song, Aana Meri Jaan Sunday Ke Sunday, for 1947 movie Shehnai. She sang this song aside C. Ramchandra and Shamshad Begum. She was the second wife of legendary composer Anil Biswas. She sang very few, yet some of the popular songs of yesterdays.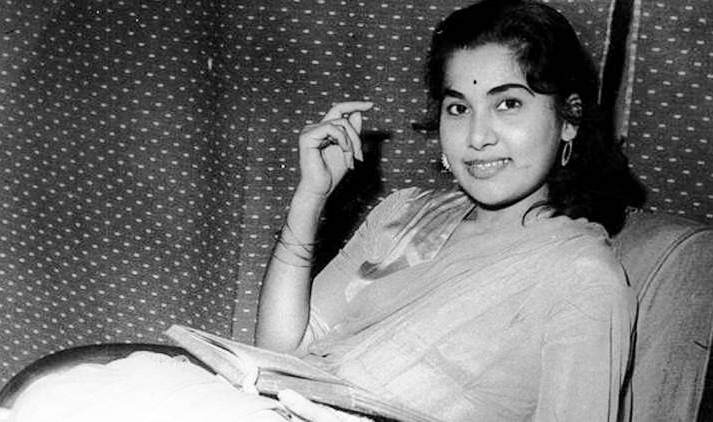 She has also rendered her voice for a few songs in the 1960s. Some of her popular songs are "Rasiya Re Man Basiya Re" from Pardesi (1957), "Ek Dharti Hai Ek Gagan" from Adhikar (1954), "Kachhi Hai Umariya" from Char Dil Char Rahen (1959), "Kuch Aur Zamana Kehta Hain" from Choti Choti Baatein (1965) etc. She has also recorded a few songs composed by her husband Anil Biswas. They tied knot in 1959.
Meena Kapoor was born in 1930 as the daughter of actor Bikram Kapoor who worked with the New Theatres studio. Famous filmmaker PC Barua was also her relative. Thus she belonged to a family with filmy background, in the era of early talkies. Her singing talent was first noticed at a young age by composer Ninu Mazumdar followed by SD Burman. She recorded her first film song for the movie Pal composed by Ninu Mazumdar. However songs of Eight Days (1946) composed by s. D. Burman got released first. She recorded both these songs during her school days.
Meena Kapoor started her singing career in the mid-1940s and rendered her voice for a few songs till 1960s. "Meri Jaan Sunday Ke Sunday" from Shehnai was her first hit song. After that she fully stayed away from limelight. In 1963 she had moved to Delhi along with her husband Anil Biswas, when he became the director of the National Orchestra at the All India Radio. The couple settled in Delhi and lived there till Anil's death in 2003. Meena was paralysed during her last phase of life and died in 2017 at her home in Kolkata.
Meena Kapoor – Some interesting and less-known facts
1. Her voice and singing style has resemblance with the voice of popular singer Geeta Dutt, her contemporary in playback singing. They were good friends too since year 1952.
2. Meena and Geeta Dutt developed a deep bonding after they sang a duet for 1951 movie, 'Ghayal'. Geeta got impressed by her Bengali. But they never got opportunity to record songs together. They first sang together 'Maine Baalam Se Poochha' for Aadhi Raat (1950), followed by Aayi Milne Ki Raat song for Jalte Deep released same year. Their recorded song of Hulchul (1951) was never released. They recorded a total of four film songs together and also a non-film song 'Jaa Ri Laadli'.
3. She always stayed with Geeta when she was going through personal issues in real life, till her death. They used to go for drives and picnics at free hours. Meena also stayed with Geeta for the 7 days of her marriage in 1953.
4. She moved to Delhi in 1963 when her husband got job at AIR. Years later when she met Geeta Dutt at a music concert, Geeta was a totally changed person.
5. Meena Kapoor met Anil Biswas while recording songs for Anokha Pyar in 1948. They recorded memorable songs for Anokha Pyar (1948), Pardesi (1957) and Chhoti Chhoti Baten (1965).
6. Composer Anil Biswas had divorced his first wife Ashalata Biswas nee Mehrunnissa in 1954. He had 4 children from first marriage. He later married Meena Kapoor in the year 1959. They had a good age gap of almost 16 years. The couple didn't have any children.
7. S. D. Burman was a friend of her father who worked as an actor at New Theatres studios in the 1940s. As a teen, her voice impressed S. D. Burman, a newcomer in Bollywood then. While Burman da wanted her to sing in films, her father wanted her continue her studies, who was still at school. Burman finally convinced her father to join her in playback singing.
8. She sang about 125 songs in her short career. But most her songs went unnoticed. It was not easy for her to sustain in the music industry, then ruled by Mangeshkar sisters. She got very few offers from Bollywood.
9. She was well versed in classical and light music.
(Visited 300 times, 1 visits today)