A spiritual journey to Adi Shankaracharya Temple Kalady, Adi Shankara's birthplace
It was a long journey of Adi Shankara, from his birth place to four directions. It started from his birth place Kalady, of present-day Ernakulam and ended at Sarvapeedam at Sharada temple, Kashmir. This spiritual man lived on this earth only for a short span of 32 years. But through his spiritual journey across India, he established the base for Hindu religion and also established four Mutts – at Badarinath in the north, Puri in the east, Dwaraka in the west and Sringeri in the south. His philosophy, Advaita Vedanta is still relevant and followed by millions. His birthday falls on 25th April this year (2023), and his birthplace has already started preparations for celebrating it in a grand way.
8-Storied Mandapam is a spectacular sight of Kalady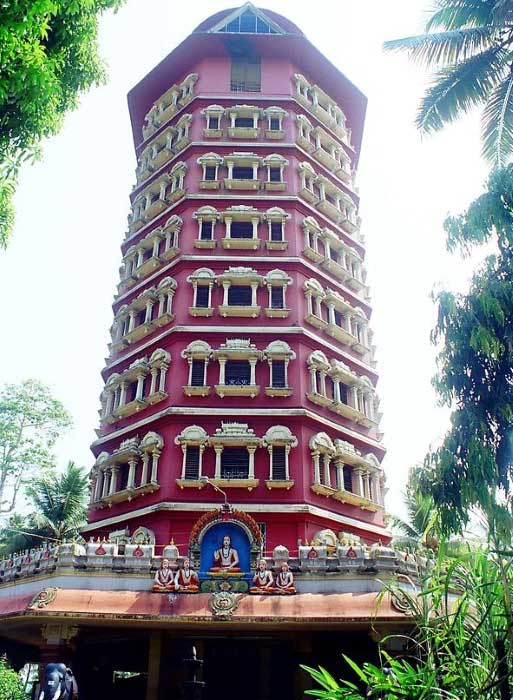 If you have passed through Kalady, you might have seen 8-Storied Mandapam dedicated to Shankaracharya. It's called Shankara Sthoopam, and its full name is Adi Shankara Keerthi Sthamba Paduka Mandapam. Main deity is a pair of slippers (Padukam) assuming to be Sri Shankara's.
When you enter the mandapam, a message in Shankara's words welcomes you. It translates as "Purify mind. If so, you will achieve divinity. Conflicting thoughts will disappear. Man will achieve the fruitfulness of Advaita and this earth will turn to a heaven".
The soil of Shankara is the playground for Advaita thoughts and people do visit here. There are 7 doorways reminding of Sapta Moksha Puri – Avantika, Maya, Ayodhya, Madhura, Varanasi, Dwaraka, and Kancheepuram.
Stories told by the statues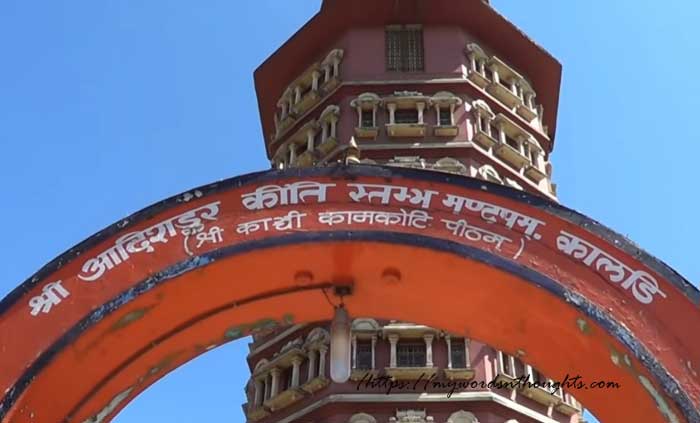 Wall pictures are inscribed in all the 8 storeys of the building. When you pass the first one, it's the presentation of Adi Shankara as Avatar of Kailasanath. The places covered by Shankara in his 32 years of lifespan make anyone wonder, is it possible long back. Maybe it's the fulfilment of an avatar. Wall paintings of Shankara Sthoopam mainly tells the story of this great saint, and his spiritual journey.
Shankara Sthoopam teaches us about the life of Adi Shankara and his spiritual life. The wall paintings tell his stories in detail. His father Shiva Guru and mother Aryamba came to Thrissur Vadakkumnatha Temple to do bhajan and it's believed that they got Shankara as their son, with the blessings of Lord Shiva. Such stories are told in the poetic literature, Shankara Vijayam, written in epic form.
As per this book, Shiva Guru was the son of Brahmin scholar Vidhyadhirajan of Kaipilli Illam. After studies he married Aryamba from Pazhoor Illam near Piravam. For a child, they stayed near Vadakkumnatha temple and did Bhajan for 48 days. Lord Shiva came in the dream of Aryamba. The child born with the blessing of Lord Shiva, they named as Shankaran. Shankaran lost his father during childhood, and he has to face a lot of sufferings because of this.
In the birthplace of Shree Shankara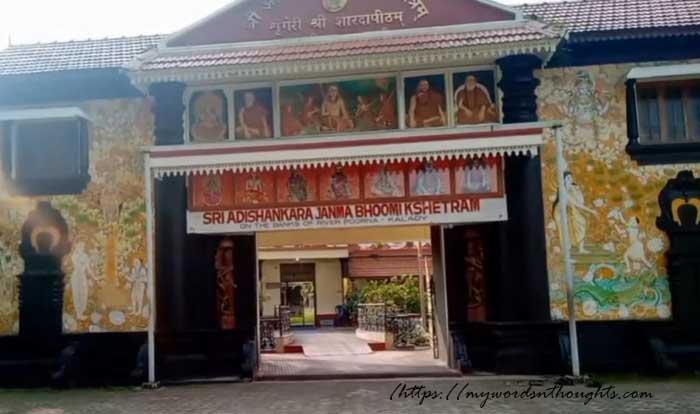 Shankara Janmabhoomi is a little far away from Shankara Sthoopam. In between there is a wall filled with pictures on either side. Adi Shankara temple is on the banks of Periyar river. The birthplace of Shankara, 1200+ years old, was regained only in year 1910, almost a century back. Before that, not even Shringeri Matt had a clear idea of his birthplace.
Mysore Raja then, Shri Krishna Raja Udayar, with the help of his Divan Sheshadri Iyyer and Travancore Divan Madhavarayar, located the birthplace of Adi Shankara. Travancore Maharaja then, Sree Moolam Thirunal annexed this land and gave it to Shringeri Matt as a gift. 26 acres of land was taken over by government and handed over by Maharaja to Shringeri Matt, which include Samadhi mandapam and Muthalakadavu. In the Samadhi of Aryamba, Shankaracharya's mother, there are old stone lamps and a tulasi thara (a Tulasi Vrindavana). There is also a water well, believed to be used by Aryamba.
Shankara's divinity fills in this atmosphere
There are many holy places connected to the birth place of Shankaracharya. Manikya Mangalam Karyaani temple, Thirunayathodu Shivanarayana temple, Mattoor Thiruvellamaanthudi Vadakkumnatha temple, Avanankode Saraswathi temple etc are a few among those.
Shankara's father was the temple priest of Manikya Mangalam. One day, Shankara came here instead of his father. To test him, the presiding goddess initially didn't accept his pooja offerings and when young Shankara got disappointed by this, she accepted his offerings and also blessed him, as per tales.
Aryamba used to visit Vadakkumnatha temple of Thrissur frequently. As time passed by, due to age related ailments she was not able to fulfil her wish to visit the temple. One night, Lord appeared in her dream, and carrying a hanging lamp (kolvilakk), she started that night itself. When she reached a hill side 2 Naazhika (old measurement) on the west side, she saw a white deer coming her way, and jumped into the Kokkarani valley nearby. This place later became Thiruvellamaanthudi temple, a replica of Vadakkumnatha temple.
Avanankode Saraswathi temple is near to Nedumbassery international airport. As young Shankara lost his father during childhood, he couldn't afford normal Vidyarambha rituals followed by Brahmins as per traditions. But his mother let go that sorrow and took him to Avanankode Saraswathi temple, where his Vidyarambham was done.
The lamp which gives light of knowledge
On the west side of Sree Shankara Janma Sthanam, there is the Panchaloha (5 metal) idol of Sree Shankara Bhagathpaadar in saint form, facing Poorna river. There is a lamp lighted in front of the idol, which is never blown off. In Brahmin form, there is the idol of Sree Sharada, installed on the east side. Like 8 petals of lotus, there are eight deities installed around this idol – Maheswari, kaumari, Vaishnavi, Varahi, Indrani, Chamunda and Saraswati. Shakti Ganapati is another but rare idol installed here.
On temple walls, important events of Shankara's life have been inscribed. The temple has the shape of Shodasha with 16 edges, representing 16 forms of divinity. The famous Sri Krishna temple, considered as the family temple of Shankara is near to it. He, along with his parents were closely associated with this temple. Now also the temple retains its old look. New additions are only balikkalpura and space for elephants. When you walk through the spaces, a peaceful and divine atmosphere creeps in and a divine feel of someone reciting Kanakadhara Stotram.
Including Kaipilli Mana of Shankaracharya, there are a total of 10 manas. Later it reduced to three and now only two.
The space for Vedic studies in Gurukula tradition
Kanakadhara Yagnam is conducted during 5 days from Pradhama to Panchami, and this year it falls between April 20 and 25th. Representing 32 birth years of Shankara, 32 Brahmin Acharyas recite Kanakadhara Sthvam/Stotram for more than 1 lakh times. Those Acharyas who participate in the eve come from Swarnath, Pazhoor, Kaappilli and Thalayattumpilli manas. On the west side of the temple, there is space for vedic studies. From there it's easy to access the steps of Periyar river bank.
This space is known as Muthalakadavu (Literally 'Crocodile Bank'). It's the same river bank where Shankara was caught by a crocodile and it let go him only after his mother agreeing to sending Shankara for Sanyasa. Sadvidya Sanjeevani Ritveda Paadashala is near to this space, where Vedas and philosophy are taught. Kids of 7 years of age are enrolled here and the Vedic studies extend to 7 years. A certificate equivalent to 10th standard is also given once the course is completed.
Once the child completes Vedic studies, he can choose stream of his choice. Some students choose spiritual path while others lead a normal life. Students stay here during their course study.
Kanakadhara Sthavam for wealth and prosperity
During Gurukula period, the students have to talk alms from nearby homes. On one such occasion, young Shankara reached a Brahmin Mana. He saw an old lady and asked for alms, and she was so poor to give him. She was unhappy and went inside to search something to give and came with a gooseberry. Moved by her plight, he started writing & reciting a poem starting with lines – Angam hare pulaka bhooshanamasrayanthi. It later came to be known as Kanakadhara Stotra or Kanakadhara Sthavam. The hymn praises Goddess Lakshmi in her various forms as Parvati, Lakshmi and Saraswathi, and her different qualities.
Goddess Lakshmi pleased with his poem and appeared there. She is said to have showered gooseberries of pure gold, and this Mana (Brahmin home) later came to be known as Swarnathu Mana (Golden House). This house is still there near to Kolanchy. It's also said that, Goddess Lakshmi initially told Shankara that because of her bad Karmas of previous birth, the brahmin lady won't qualify for wealth and she has to live in poverty her entire life. But Shankara pleaded that her selflessness to give him something to eat, despite living in such a poor condition erases all her bad Karma of previous birth, and goddess agreed. For prosperity and wealth, devotees still recite Kanakadhara Sthavam. Kanakadhara Yagnas are also organized.
Agraharams of Shankara Janma Bhoomi still fill the space
There are many Brahmin agraharams (dwelling places) still there, which are centuries old. There is one Agraharam very close to Shankara Janma temple, believed to be occupied by Shankara's family and relatives. 18 homes are still there, and most of them are closed.
There are coconut plantations around, spreading green carpets. The birds sitting on the trees might be telling the stories of Shankara and his victorious journey conquering all the four directions. The birthplace of Shankara, who has alighted Sarvajnanapeedam, always have an atmosphere of music and spirituality.
In front of the installed idol of Adi Shankara, someone is reciting…..
"Shruti Smriti Puranaanaam
Aalayam Karunaalayam
Namami Bhagavatpaada Shankaram
Loka Shankaram"
Sree Shankaracharya University of Sanskrit is also located in Kaladi. The world's longest cement mural wall belongs to this university.