Onion Bhatoora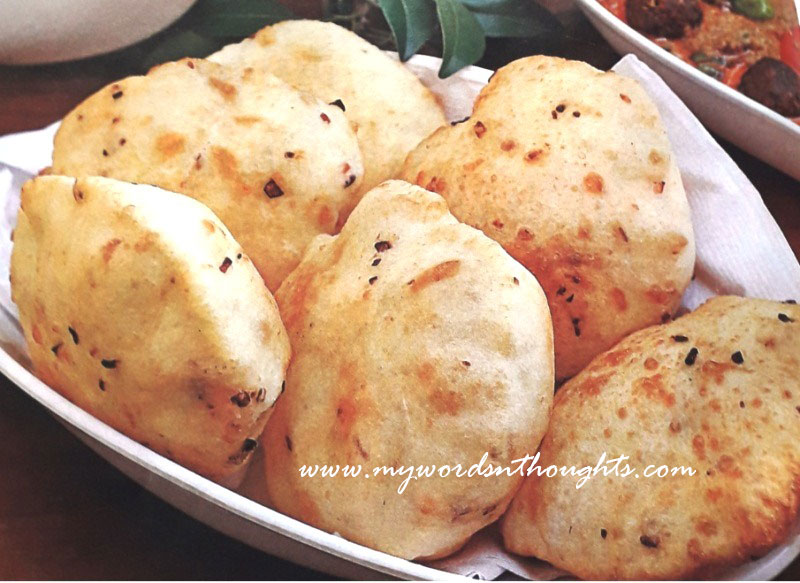 Ingredients for Onion Bhatoora:
1. Maida (All-purpose flour) – ½ kg
Butter/Vanaspati – 1 big spoon
2. Lukewarm milk – 1 cup
3. Yeast – ½ small spoon
Sugar – 2 small spoons
4. Yellow yolk – 1
Sour-less curd – As required to prepare batter
Salt – For taste
5. Cooking oil – As needed
6. Onions chopped fine – ¼ cup
How to prepare Onion Bhatoora?
1. Add Butter/Vanaspati to maida and using fingers mix it well.
2. Add yeast and sugar to lukewarm milk and stir well.
3. When it rises up add to maida flour.
4. Add ingredients no: 4 and mix well to knead the dough similar to chapatti.
5. Allow the dough to rest for next half hour. The dough rises up, and thus increases in volume.
6. Heat a little oil and deep fry chopped onions.
7. Add fried onions to the dough and mix again.
8. Make balls from the dough and spread to thick puris.
9. Heat oil and deep fry each puri.
10. Serve hot with any curry of your choice.
Courtesy: Vanitha Magazine October 1-14, 2018
Read a few more Puri & Similar Deep Fry Main Course recipes. Here is the page link. Click on the images in the gallery to read.
(Visited 212 times, 1 visits today)